Tap into more fun with amiibo™ accessories
Score additional characters, bonuses, or other perks in compatible games.
Unlock cool extras
One amiibo may work with multiple games. Check out some of the fun stuff you can do.
Add a character to the game
Invite characters to your island in the Animal Crossing™: New Horizons game.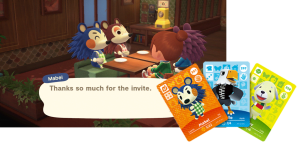 Get bonuses or special items
Unlock power-ups and other in-game enhancements in the Super Mario™ 3D World + Bowser's Fury game.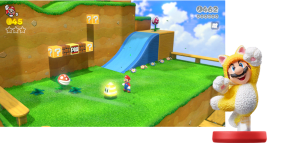 Level up or customize your character
Train and fight Figure Players in the Super Smash Bros.™ Ultimate game.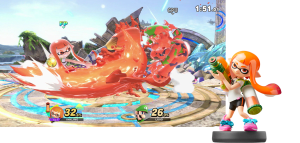 Many forms of fun
From high-quality character figures to super-portable cards, amiibo can come in different shapes and sizes.
You can tap your amiibo to the right Joy-Con™ controller's Right Stick or the NFC touchpoint on the Nintendo Switch Pro Controller.
Tap any amiibo accessory to the NFC reader on your Wii U™ GamePad controller.
The New Nintendo 2DS™ XL and New Nintendo 3DS™ XL come with built-in amiibo support. Just tap an amiibo to the NFC reader on the lower screen.
You can also use amiibo with Nintendo 3DS™, Nintendo 3DS™ XL, or Nintendo 2DS™ systems via the Nintendo 3DS NFC Reader/Writer accessory (sold separately).
---
Frequently asked questions
You will need an amiibo figure or card, a compatible game, and a Nintendo Switch, Wii U,  New Nintendo 3DS XL, or New Nintendo 2DS XL system.
For use with Nintendo 3DS, Nintendo 3DS XL and Nintendo 2DS systems, a Nintendo 3DS NFC Reader/Writer accessory is required. (Sold separately).
Specific features depend on the amiibo and the compatible game.
In general, some games can save game data to an amiibo. Other games will give you bonus content just for tapping an amiibo to your game system's NFC reader.
An amiibo can save data for one game at a time. This means that game data will need to be deleted on an amiibo before it can be used with another game with read/write compatibility.
Compatibility and functionality of amiibo may vary by game.
Compatibility and functionality of amiibo vary by game.
Some titles allow you to play as your amiibo character. For example, in Super Smash Bros. Ultimate, you can battle, train, and level up your amiibo character.
Yes, you can still use your amiibo to get bonus items in games like Mario Kart™ 8 Deluxe and The Legend of Zelda™: Breath of the Wild. However, for other games that save data to your amiibo (such as Super Smash Bros. Ultimate), you will need to delete any existing save data on the amiibo before using it with a new read/write compatible game.
An amiibo-compatible game can have either Read-only or Read/Write compatibility with an amiibo.
Read-only compatible means that you can tap an amiibo to the system's NFC reader to get additional content. For example, the Mario amiibo figure will give you a special racing suit for your Mii™ character when used with the Mario Kart 8 Deluxe game.
Read/Write compatible, on the other hand, means that you can get additional content AND save certain game data to the amiibo. For example, you can customize your character and then save it to your Mario amiibo in Super Smash Bros. Ultimate. One amiibo can hold save data for one game at a time.
You can use an amiibo with save data on it in Read-only compatible games. That means you'll still get the additional content without having to use a different amiibo!
You can enjoy the full game experience with all games compatible with amiibo without using an amiibo figure. Using an amiibo will simply add new, optional elements to the gameplay (depending on the game).