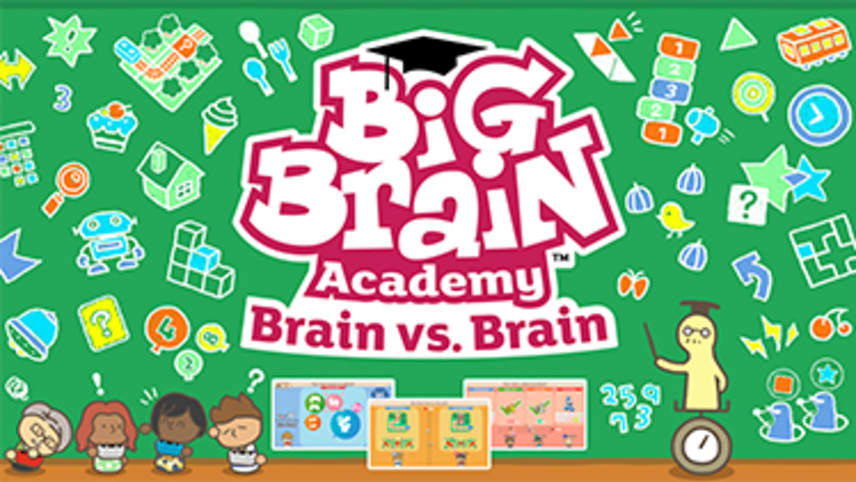 Pokémon™ Brilliant Diamond and Pokémon™ Shining Pearl - Available now
2021 Nominees playable on the Nintendo Switch family of systems
Fortnite Chapter 3 Season 1 Flipped
Metroid Dread - Demo available
Mario Party Superstars - Available now
Happy Home Paradise DLC - Available now
Game & Watch: The Legend of Zelda - Learn more
Mario Golf: Super Rush - Available now
Shin Megami Tensei V - Available now
Just Dance 2022 - Available now
Mario Kart Live: Home Circuit - Learn more
Nintendo Switch Online + Expansion Pack - Learn more
Super Smash Bros. Ultimate Fighters Pass Vol. 2 - Learn more
NBA 2K22 - Season 3 Iced Out
New season - Apex Legends: Escape
Among Us - Available now
Game Store: Buy, download, and play right away!
Shop games
Holiday Gift Guide: Spark a smile with the perfect present.
Find gifts
News
Available now! Fast and fun quizzing for the entire family

So maybe brains aren't brawny in the literal sense. But what if there was a fun way to compete against the brains of your loved ones (even if it's your rocket-scientist mother)? Well, the Big Brain Academy™: Brain vs. Brain game might be that way!

Get fresh insights from the devs with the latest Metroid Dread Report

Whether you're a new recruit or a seasoned bounty hunter, the Metroid™ Dread Report series is a great way to go deeper into the upcoming game and the world of Samus Aran.

Animal Crossing: Pocket Camp sparkles with holiday joy throughout December

Ask the Developer Vol. 3, Big Brain Academy: Brain vs. Brain–Part 1

Here we ho-ho-ho, it's the Holiday Tour!

Congrats to The Game Awards nominees for 2021!
Big Brain Academy™: Brain vs. Brain
Danganronpa S: Ultimate Summer Camp
Danganronpa: Trigger Happy Havoc Anniversary Edition
Danganronpa 2: Goodbye Despair Anniversary Edition
Danganronpa V3: Killing Harmony Anniversary Edition
Pokémon™ Brilliant Diamond and Pokémon™ Shining Pearl Double Pack
Pokémon™ Brilliant Diamond
Pokémon™ Shining Pearl
Hextech Mayhem: A League of Legends Story™
Ruined King: A League of Legends Story™
Shin Megami Tensei V
Twitch
STAR WARS™: Knights of the Old Republic™
Just Dance® 2022
Mario Party™ Superstars