Retail offers
Find offers on select Nintendo Switch™ systems and games at participating retailers. Visit the retailer page to learn more.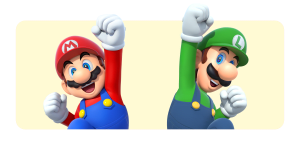 Nintendo Switch – OLED Model Splatoon 3 Edition
This Nintendo Switch™ system takes on a totally fresh look from the new Splatoon™ 3 game
Ink up the Splatlands in style with this Splatoon themed Nintendo Switch – OLED Model system! Fresh features include; blue and yellow gradient Joy-Con™ controllers with a white underbelly, a white dock adorned with graffiti, and a splat-tastic design on the back of the system.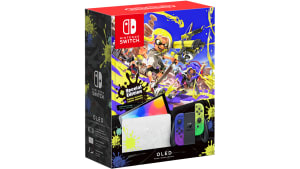 *Game not included
**LAN cable sold separately
***There may be software where the game experience may differ due to the new capabilities of the system, such as the larger screen size.
The Nintendo Switch – OLED Model Pokémon Scarlet and Violet Edition returns!
Heads up, Trainers! The Nintendo Switch – OLED Model Pokémon™ Scarlet and Violet Edition has returned to GameStop.
Enjoy a dock featuring Legendary Pokémon Koraidon & Miraidon, special illustrations of the partner Pokémon on the back & specially-designed Joy-Con controllers.
Visit GameStop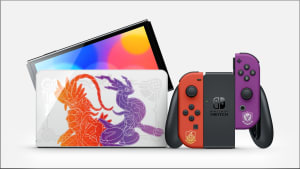 *Pokémon Scarlet and Pokémon Violet games sold separately.
Pokémon GO Plus +
Catch Pokémon and track your rest rhythm with one device!
Pokémon GO Plus + is a new device that uses Bluetooth® Low Energy technology to link with the Pokémon Sleep and Pokémon GO smart device apps!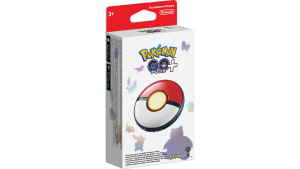 Pokémon GO Plus + cannot be used with Nintendo Switch™ family systems.

It also cannot be used on its own.

This accessory requires a compatible smart device (using Android or iOS) with the Pokémon GO and/or Pokémon Sleep apps installed.

Pokémon GO Plus + measures sleep based on the lack of movement.

Before purchasing Pokémon GO Plus +, make sure to check the system requirements of this device as well as those of the apps it works with.

If the performance of your Pokémon GO Plus + seems unstable, it may improve if you update your operating system.

Please do not use Pokémon GO Plus + while operating a vehicle (car, bicycle, etc.).

Pokémon Sleep can also track your rest rhythm using your smart device.
Sales & deals
Save on select Nintendo Switch™ games, hardware, and more with the latest deals in the My Nintendo Store.
Shop now