Splatoon™ 3
Select a product
Catch double Gold Points with the digital version of Splatoon 3
Here's a fresh opportunity for ya! For a limited time, you can earn DOUBLE My Nintendo Gold Points on the digital version of the Splatoon 3 game. That means you can earn 10% in Gold Points**—which you can then use toward your next eligible digital game or DLC.
Already pre-ordered digitally? Those points are coming your way, too—booyah!
Offer ends 9/30 at 11:59 p.m. PT.
Enter the Splatlands, a sun-scorched desert inhabited by battle-hardened Inklings and Octolings. Splatsville, the city of chaos, is the adrenaline-fueled heart of this dusty wasteland.
Even in this desolate environment, Turf War* reigns supreme and battles rage in new stages located in the surrounding wilds. Dynamic new moves help these fighters dodge attacks and cover more ground, along with a new bow-shaped weapon to sling ink.
Join Agent 3 in a fight against the unruly Octarians in story mode. Discover the secrets of Alterna, the Fuzzy Ooze, and how they connect to the mode's theme, "Return of the Mammalians."
Team up and fend off waves of dangerous Salmonid bosses in the next iteration of Salmon Run*, a co-op mode with fresh new features. 
Splatoon™ 3: Splatfest World Premiere
Pre-order the free demo today and it will automatically download before the event!
Dip your tentacles into a tutorial to learn the basics starting August 25. Then, take a stroll around Splatsville and get ready for the Splatfest.
Event Times - You can only participate in the Splatfest during this time period:
First half (Splatfest Battles Begin) - 8/27 (Sat) 9:00 a.m. PT – 3:00 p.m. PT

Second half (Tricolor Turf War Battles Begin) - 8/27 (Sat) 3:00 p.m. PT – 9:00 p.m. PT
Pre-order the free demo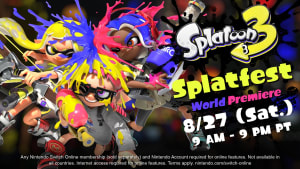 Supported play modes
Handheld mode, Tabletop mode, TV mode
Supported languages
Dutch, English, French, German, Italian, Japanese, Korean, Russian, Simplified Chinese, Spanish, Traditional Chinese
Save Data Cloud compatible with offline play data only.
*Additional games, systems, accessories and/or Nintendo Switch Online membership may be required for multiplayer mode. Games, systems, some accessories, and Nintendo Switch Online membership sold separately. Nintendo Switch Online membership and Nintendo Account required for online features. Not available in all countries. Internet access required for online features. Terms apply. nintendo.com/switch-online
**Gold Points are awarded based on the amount you pay (excluding tax and any points or discounts used) and have no cash value.
A Nintendo Account is required to receive and redeem My Nintendo points. Terms apply. https://accounts.nintendo.com/term_point
Offer valid through 9/30 at 11:59 p.m. PT when you purchase or redeem a download code for the digital version of the Splatoon 3 game on Nintendo eShop or Nintendo.com.
For more information about Gold Points, be sure to check out https://my.nintendo.com/about_gold_point