Offres et aubaines
Économisez sur des jeux fantastiques grâce à nos offres.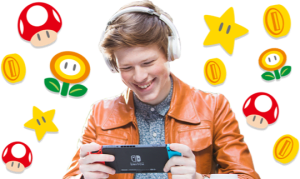 Un nouveau jeu à l'essai est arrivé!
Du 24-1 à 9 h HP au 6-2 à 23 h 59 HP
Les abonnés Nintendo Switch Online* peuvent télécharger et essayer le jeu complet UNO® sans frais supplémentaires.
Si vous décidez d'acheter le jeu avant ou après que cette offre se termine, vos données de sauvegarde resteront avec vous, alors vous n'avez pas à vous soucier de perdre votre progression. En bonus, pour un temps limité* vous pouvez acheter ce titre pour un rabais de 60 % !
Télécharger maintenant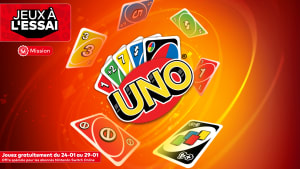 *Un abonnement Nintendo Switch Online (vendu séparément) et un compte Nintendo sont requis. À l'issue de votre période d'essai gratuit, votre abonnement sera renouvelé par l'achat automatique d'un abonnement individuel d'un mois à renouvellement automatique et au prix en vigueur, sauf si vous désactivez le renouvellement automatique avant la fin de la période d'essai gratuit. Carte de crédit / compte PayPal requis pour les utilisateurs âgés d'au moins 18 ans. L'essai gratuit ne peut pas être activé par un compte Nintendo avec un abonnement individuel ou familial effectif. Une connexion à Internet permanente, un téléphone intelligent compatible, et un compte Nintendo pour utilisateurs âgés de 13 ans et plus sont nécessaires pour accéder à certaines fonctions en ligne sur l'application, y compris le bavardage. Des frais de transmission de données peuvent s'appliquer. Les fonctionnalités en ligne, la copie des données de sauvegarde dans le nuage et les fonctionnalités de l'application Nintendo Switch Online pour téléphone intelligent sont utilisables dans les jeux compatibles. Pas offert dans tous les pays. Les termes du contrat d'utilisation du compte Nintendo, y compris les conditions d'achat et d'abonnement, s'appliquent.
UNO and associated trademarks and trade dress are owned by, and used under license from, Mattel. © 2017 Mattel. All Rights Reserved. Game software © 2017 Ubisoft Entertainment. All Rights Reserved. Ubisoft and the Ubisoft logo are trademarks of Ubisoft Entertainment in the US and/or other countries. Nintendo Switch is a trademark of Nintendo. © 2017 Nintendo.
Vente de janvier des jeux de Warner Bros.
Du 17-1 à 9 h HP au 5-2 à 23 h 59 HP
Démarrez la nouvelle année du bon pied avec de gros rabais sur des jeux Warner Bros. Games et faites la résolution d'économiser gros!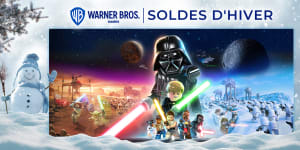 Bénéficiez de -50 % sur EA SPORTS™ FIFA 23 Édition Essentielle
Du 27-1 à 9 h HP au 6-2 à 23 h 59 HP
Réduction sur The World's Game dans FIFA 23 Édition Essentielle, en promo maintenant !
Acheter maintenant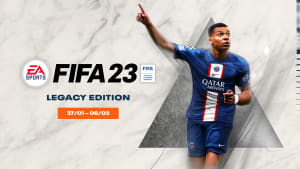 Vente 30e anniversaire de NIS
Du 30-1 à 9 h HP au 12-1 à 23 h 59 HP
Célébrez 30 années avec nous! Économisez jusqu'à 87 % sur des titres sélectionnés pour un temps limité!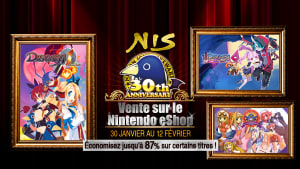 Solde Monster Hunter Rise
Du 1-2 à 9 h HP au 15-2 à 23 h 59 HP
Il n'y a jamais eu meilleur moment pour joindre la chasse! Profitez de rabais allant jusqu'à 50 % sur le contenu de Monster Hunter Rise et de Monster Hunter Rise: Sunbreak.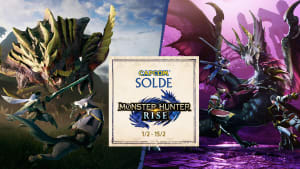 Vente de la Saint-Valentin Jackbox Games
Du 2-2 à 9 h HP au 16-2 à 23 h 59 HP
Hit Jackbox Games titles are on sale just in time for your Valentine's Day party! Play fan-favorite games like Trivia Murder Party 2, Drawful: Animate, Job Job, and Dictionarium.
Économisez sur des produits remis à neuf
Découvrez la dernière sélection de consoles et pièces remises à neuf de qualité.
Magasiner maintenant