GROOVE COASTER WAI WAI PARTY!!!! + UNDERTALE Pack Value bundle
GROOVE COASTER WAI WAI PARTY!!!!
Get "GROOVE COASTER WAI WAI PARTY!!!!" and "UNDERTALE Pack" DLC at special price until 4th October!


▼"GROOVE COASTER WAI WAI PARTY!!!!"
Rhythm Game x Roller Coaster!!!!
Ride a roller coaster of sound with simple controls, and get grooving in this exhilarating rhythm game!
A lineup of 100 hit songs from genres such as J-Pop, Anime, Vocaloids, Touhou Project and more.!
Play with friends and family: up to four players can participate in "Play with Others mode"!
Let's groove together!


▼"UNDERTALE Pack"
A DLC pack for GROOVE COASTER WAI WAI PARTY!!!! that includes 10 songs, navigators, and avatars from the popular indie game UNDERTALE!
This pack includes the following content.

■Song Pack (10 songs)
・Bonetrousle
・Spear of Justice
・Spider Dance
・Death by Glamour
・ASGORE
・Your Best Nightmare
・Last Goodbye
・Battle Against a True Hero
・MEGALOVANIA
・???(Secret)

■Navigator
・Papyrus
・Sans

■Avatar
・Human
・Flowey
・SOUL
・NAPSTA BLOOK
・TEMMIE
・ANNOYING DOG

*Some content will be unlocked via missions after downloading.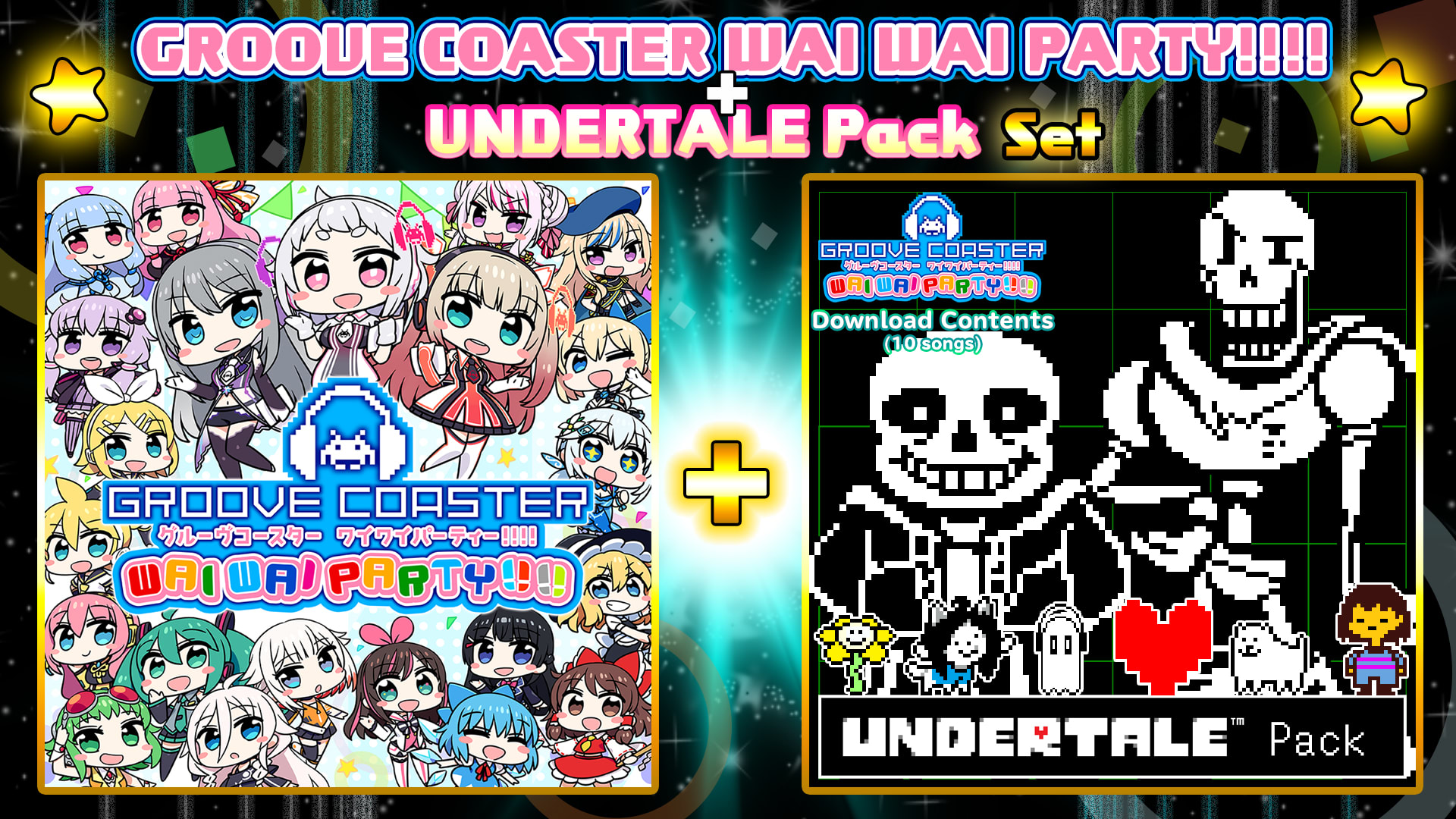 Supported play modes
TV mode, Tabletop mode, Handheld mode
Temmie avatar courtesy of Temmie Chang and Betty Kwong.
In order to install the downloaded content, a larger volume of free space may be needed than what is written. In the case that there is not enough space on your system, please organize your unneeded software or use a microSD card with enough free space on it.
© TAITO CORPORATION 1978,2019 ALL RIGHTS RESERVED.
UNDERTALE ©Toby Fox 2015-2019. All rights reserved.