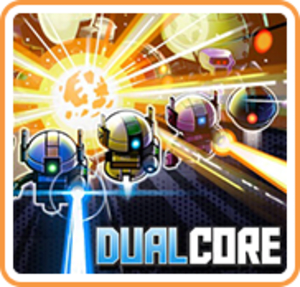 A vibrant, futuristic, twin-stick style shooter.
It's 2147 and the human colony on Europa has suffered a terrible fate. Rebooting after hibernation, two super-intelligent AI cores awake to find themselves installed within a couple of old security drones. Their attempts to uncover what occurred may end up becoming a lower priority than merely surviving...
Lots of robots, lots of lasers, lots of aliens, lots of explosions! Retro arcade influences are front and center, but spiced up with a colorful modern style, a generous helping of sci-fi intrigue, and a dash of RPG ELEMENTS!
Don't fight alone! Up to 4 players can battle together, but you'll always have your trusty (AI-controlled) robo-buddies by your side.
In Story mode, battle through the labyrinth-like colony as you attempt to shed light on the calamity that has ocurred.
Hone your skills in the arena-style Arcade mode. Battle wave after endless wave of the alien horde.
Versus mode pits you against up to 3 friends.
Read more
Explore this game's official site
Release date:

May 26, 2016

Publisher:

Gray Fin Studios

Developer:

Gray Fin Studios
*If eligible for a Just for You offer, the final price reflects the combined Sale and Just for You offers. The Just for You offer is discounted from the sale price.
Copyright 2016 Gray Fin Studios, LLC