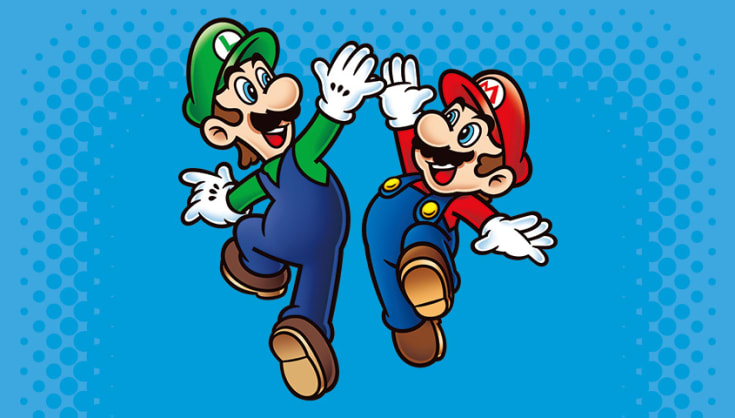 Play nice! Nintendo celebrates National Siblings Day
A sibling can be many things. Sometimes they've got your back in times of trouble or sometimes they take over the TV at the most crucial, inconvenient moment. And sometimes they have really impressive mustaches.
No matter the case, we're celebrating brothers and sisters in honor of National Siblings Day. Check out the fun ways you (and your siblings) can celebrate with Nintendo!
Play Nintendo Mario and Luigi are two of the most famous siblings in video game history. Which set of video-game siblings do you think would be fun? Take a very special Siblings Day poll on Play Nintendo to choose between Mario and Luigi, Cappy and Tiara, and more!
My Nintendo My Nintendo is offering rewards that put a spotlight on brotherly love. You can redeem your My Nintendo Platinum points for a free Luigi Mustache HOME Menu theme for the Nintendo 3DS™ family of systems. Plus, you can redeem points for a free Siblings Day wallpaper featuring Mario and Luigi!
Let your siblings know how much you care with a cheerful "Happy Siblings Day" card sheet to download and print. Redeem your My Nintendo reward points, then say "I love you, bro!" or "You're the best, sis!"
Nintendo Switch News Do you and your siblings play well together? Challenge them to a day of fun with co-op games for the Nintendo Switch™ system! Just remember to play nice…because that's what siblings do, right?
In Super Mario Odyssey™, Player 1 controls Mario while Player 2 controls Cappy! If your sibling is significantly younger than you, the new Smart Steering feature in Mario Kart™ 8 Deluxe helps rookie racers stay on track.
Here are a few more co-op games to help strengthen your sibling-y bond: ARMS™ Bayonetta™ 2 Fire Emblem Warriors Kirby™ Star Allies Snipperclips™ - Cut it out, together! Splatoon™ 2
Additional games, systems, and accessories may be required for multiplayer mode. Games, systems, and some accessories sold separately.
Games Shown: