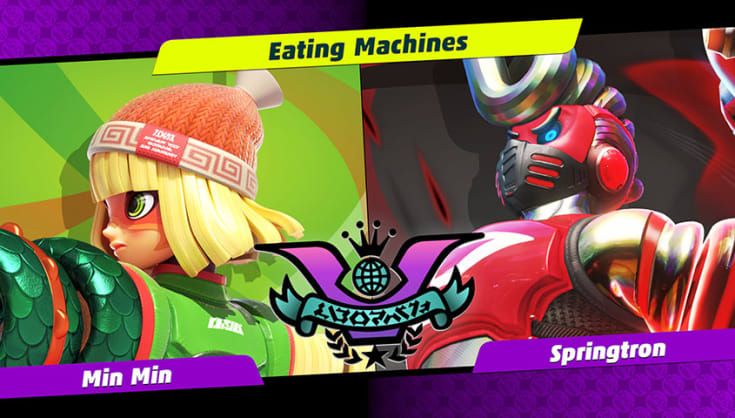 02/25/2019
Nintendo Switch
Ramen-ber the next Party Crash Bash! Sparks will fly as Min Min and Springtron
It's time for the next matchup in the ongoing Party Crash Bash event! Once the dust settles in this bracketed tournament, one character from the ARMS™ game will be crowned ultimate champion!
Here's how it works. Like Party Crash, Party Crash Bash is a limited-time Party Match event with special rules. By playing these matches, you can increase your Lab Level, which then grants you in-game currency and special badges. You can also get bonus multipliers by using featured characters and weapons. At the end of each event, a winning character will be declared based on win percentages. This event will then repeat every few weeks until one ultimate champion is crowned.
The event starts this Friday!
Event Time: Friday, 3/1 [1:00 a.m. PST] – Monday, 3/4 [1:00 a.m. PST]
Featured Fighters: Min Min vs. Springtron
May luck stretch its way to you during your fights!
If you don't currently own ARMs you can learn more about the game at the official website.
Nintendo Switch Online membership (sold separately) and Nintendo Account required for online play. Not available in all countries. Internet access required for online features. Terms apply. Learn more at https://www.nintendo.com/switch-online.