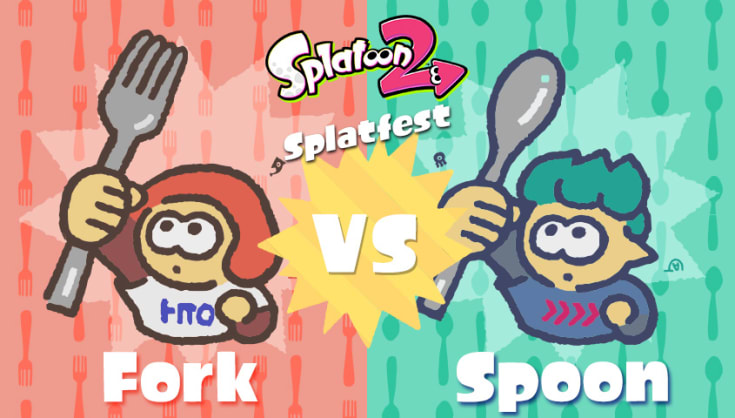 08/21/2018
Nintendo Switch
Get ready for a Splatfest this weekend! It's time for a super silverware skirmish!
Off the Hook is getting ready for another big performance, and all Inklings and Octolings are invited to a new Splatfest this weekend! Splatfests are festive times in the Splatoon™ 2 game where you can champion one of two special causes. Turf War wins during this time will help your side out and the winning side is determined by popularity, Solo Win percentage, and Team Win percentage.
The Splatfest will be:
8/24 (Fri) 9:00 p.m. PT – 8/25 (Sat) 9:00 p.m. PT
This week's Splatfest is a fight of flatware proportions. Which utensil is more important? Do you stick to your points with a fork? Or do you get the scoop with a spoon? Both utensils have their pros and cons, so please chews carefully! (And sorry…"spork" is not an option.)
And if you want more info on the game, including info on how to buy the digital version, please visit https://splatoon.nintendo.com
And as a reminder, the Nintendo Switch Online service will be launching in the second half of September. Please note that Nintendo Switch owners won't automatically become members when the service starts, so you'll will need to purchase an individual or family membership in order to avoid disruption of your online play in compatible games. To make sure you don't miss a minute of online play (including Splatfests!), please visit https://www.nintendo.com/switch/online-service for more info. Terms apply.