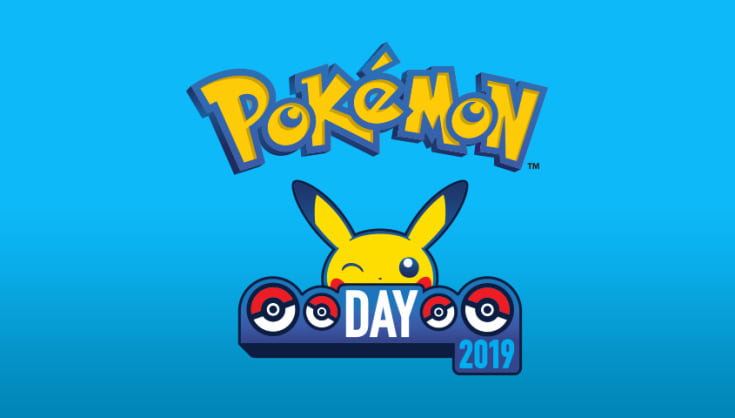 Happy Pokémon Day!
Pokémon fans across the world are commemorating the launch of the very first Pokémon™ games, released in Japan on this day back in 1996.
Today we're also celebrating the reveal of the newest generation of Pokémon games, Pokémon Sword and Pokémon Shield, coming to the Nintendo Switch system in late 2019. Explore the new region and—of course—meet the new starter Pokémon. Watch the video now.
That's not all—we've also got lots of other exciting Pokémon news to share too!
Download a free demo
Return to where it all began in the Kanto region and experience a classic Pokémon journey in a whole new way with Pokémon: Let's Go, Pikachu! and Pokémon: Let's Go, Eevee! Try the free demo today (the content of the demo version differs from the product version of these games).
Poké Ball™ Plus
Every great Pokémon Trainer needs a Poké Ball to catch and store their Pokémon. With Poké Ball™ Plus, you can bring your Pokémon adventure into the real world with an accessory that fits in the palm of your hand (sold separately). Learn more.
Catch a Shiny Meltan
A Shiny version of the Mythical Pokémon Meltan will appear in Pokémon GO for a limited time. Once obtained, this rare Pokémon can be transferred to the Pokémon: Let's Go, Pikachu! game or the Pokémon: Let's Go, Eevee! game.* Get the details.
Pokémon on Play Nintendo
Need something to keep the little ones busy? Play Nintendo has lots of great activities for the young Pokémon Trainer in your life. Check it out.
More great Pokémon games
Can't get enough Pokémon? Check out our list of some of our favorite essential titles. Show me the games.
Time to step up to Nintendo Switch?
With the Pokémon: Let's Go, Pikachu! and Pokémon: Let's Go, Eevee! games available, and Pokémon Sword and Pokémon Shield on the way, there's no better time to be a Pokémon fan on Nintendo Switch! Learn more about Nintendo Switch.
*Persistent Internet, compatible smart device and Pokémon GO app required. Data charges may apply. The ability to receive Pokémon from the Pokémon GO app becomes available as you progress through the game.
Games Shown: