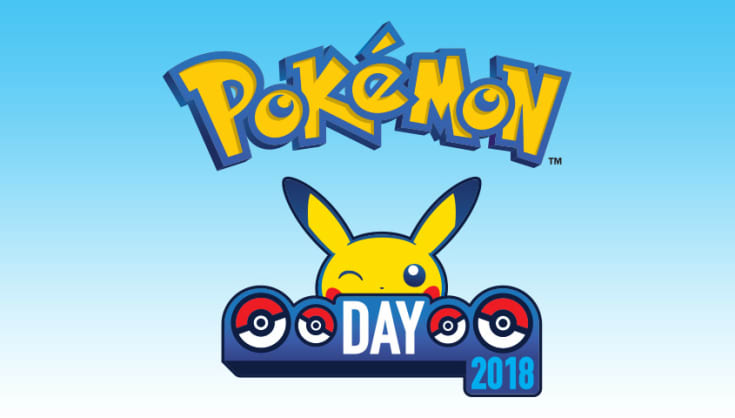 Happy Pokémon Day!
To all the fans out there – Happy Pokémon™ Day!
February 27th is the official day to celebrate all things Pokémon. The holiday commemorates the launch of the very first Pokémon games in Japan way back in 1996.
Keep reading to see how Nintendo is celebrating this special day…
Nintendo.com Game Store Visit the Game Store on Nintendo.com to find two decades worth of great Pokémon series games – and they're all available for purchase in one place! Check out the Pokémon Games list to find a new favorite, like the Pokémon™ Ultra Sun and Pokémon Ultra Moon games. Or rediscover popular games from the past, like Pokémon Crystal Version. With so many games, there's a good chance you'll "encounter" the one you want to play!
Nintendo Switch News You can also encounter Battle Pokémon in the Pokkén Tournament™ DX game, the first Pokémon title for the Nintendo Switch™ console. Take direct control of one of 21 prized Pokémon fighters to defeat other Pokémon in arena fights. You can purchase a special bundle which includes both the digital version of the game and the Pokkén Tournament DX Battle Pack DLC, which grants immediate access to Avatar items upon purchase and two waves of DLC as they are released. The Battle Pack contains two new Battle Pokémon and two new Support Pokémon Sets. Wave 1 was released on January 31, 2018 and Wave 2 releases on March 23, 2018. With these Pokémon joining the fray, the battle is just getting started!
Full game required to use DLC.
My Nintendo My Nintendo is offering a wallpaper inspired by the upcoming Detective Pikachu™ game for the Nintendo 3DS™ family of systems. You can redeem your My Nintendo points and plaster your PC or smart device with a detective Pikachu's adorable face!
Detective Pikachu stars a witty, tough-talking Pikachu who is a self-proclaimed "great detective". The 2D game launches Mar. 23, 2018 for the Nintendo 3DS family of systems.
You can also redeem your My Nintendo reward points to get a Pikachu & Poké Ball inspired Nintendo 3DS HOME Menu theme. You can redeem points up to three times to receive up to three codes.
A free My Nintendo reward is also available! You can receive a fun card sheet to download and print, inspired by Pokémon Day. No points are required to receive this reward.
New Nintendo 2DS XL systems Want to keep Pikachu with you at all times? The New Nintendo 2DS™ XL Pikachu Edition system is available now in stores. The eye-catching yellow design features a stylized close-up of Pikachu's adorable face. This special edition system is a must-have for fans! As with all Nintendo 2DS systems, the New Nintendo 2DS XL Pikachu Edition system plays Nintendo 3DS games in 2D.
There's also a New Nintendo 2DS XL Poké Ball Edition system for fans who prefer the classic red-and-white colors.
From all of us to all of you, Happy Pokémon Day!
Games Shown: