Happy Holidays, Animal Crossing fans!
Did you already download the Animal Crossing: Pocket Camp game on your mobile device? If not, you can build your own dream campsite and invite adorable animal friends to hang out! You can also visit your friends' campsites, craft your own furniture, and lots more.
Now is the perfect time to join in the fun, as a limited-time holiday event just started. Unlock seasonal outfits and collect in-game candy canes to craft cute holiday-themed items.
Find out how to craft furniture and decorate your campsite in festive colors.
To help everyone get into the holiday spirit, we're giving away a Santa hat for your campsite manager. . Be sure to check your in-game mailbox!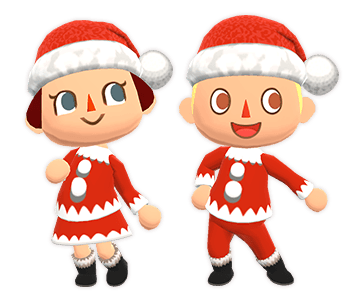 By the way, did you know that linking your Nintendo Account to the Animal Crossing: Pocket Camp game can help save your in-game progress? Sign up today and keep your camp safe!
My Nintendo is also offering some fun Nintendo 3DS Animal Crossing rewards this month.
Cute Animal Crossing HOME menu themes:
Animal Crossing - Winter Frolics theme
Animal Crossing: New Leaf - Jingle's Toy Day theme
Animal Crossing: Isabelle theme

Want to catch up on other Animal Crossing games? You can redeem your My Nintendo points and get the following discounts to help you get started:
20% discount on Animal Crossing: New Leaf
40% discount on Animal Crossing: Happy Home Designer
You can also redeem your Gold Points to get this full digital guidebook, too!
Online Access - Animal Crossing: New Leaf Prima Official Game Guide

Game Rated: