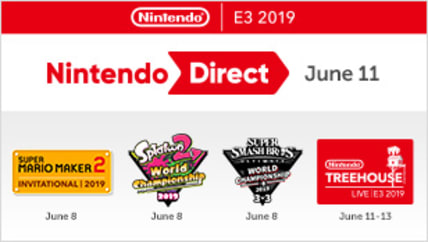 06/06/2019
Nintendo Switch
Nintendo continues its countdown to E3 2019 with more details on what fans can expect
As the E3 2019 video game trade show rapidly approaches, Nintendo provided more details about some of its activities around the June 11-13 event in Los Angeles. Nintendo confirmed that the Nintendo Switch games available for people to play on the show floor include Pokémon Sword and Pokémon Shield, which were the focus of a recently released Pokémon Direct. Other games on the show floor include Luigi's Mansion 3, The Legend of Zelda: Link's Awakening and MARVEL ULTIMATE ALLIANCE 3: The Black Order, in addition to various other games playable in Nintendo's booth. Fans will hear details about additional upcoming titles for Nintendo Switch during the Tuesday-morning Nintendo Direct presentation, with continued information during the week on Nintendo Treehouse: Live, with a focus on indie games on Thursday, June 13.
"The 2019 lineup for Nintendo Switch aims to deliver smiles with many different unique games and experiences," said Nintendo of America President Doug Bowser. "Games available this holiday season will be the focus of our booth, and no matter where you live, you can participate in the fun events by watching Nintendo Treehouse: Live during E3 or visiting Nintendo Early Access events at Best Buy, which have a focus on MARVEL ULTIMATE ALLIANCE 3: The Black Order."
Some of Nintendo's activities during the week of E3 2019 include:
For the most up-to-date information about Nintendo's presence at E3 2019, keep an eye on https://e3.nintendo.com/.