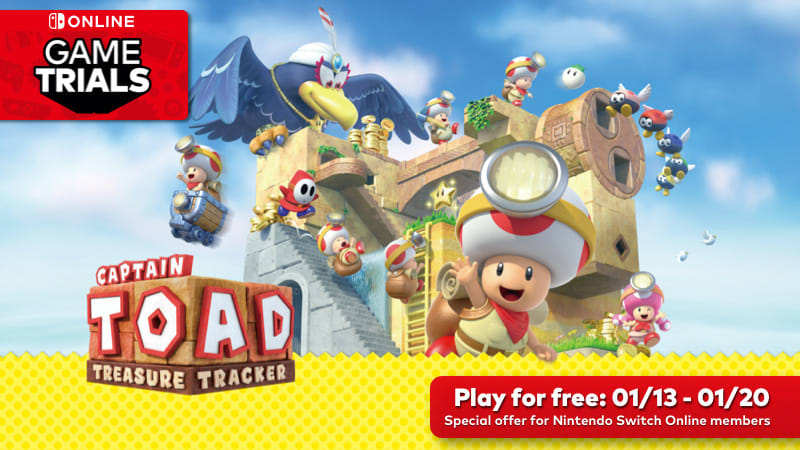 New Game Trial! Nintendo Switch Online members can try Captain Toad: Treasure Tracker for a limited time.
Ready for adventure!
From 1/13 at 10 a.m. PT to 1/20 at 11:59 p.m. PT, Nintendo Switch Online members can download and try out the full Captain Toad™: Treasure Tracker game with this latest Game Trial.
In this puzzling quest, our stubby hero must dodge dangers and track treasures across many trap-filled courses. Survive smoldering volcanoes, hazardous steam engines, haunted houses, and even courses based on the Super Mario Odyssey™ game! Luckily, a second player can join in by tossing turnips at enemies.
If you're new to Game Trials, please note:
You can download the Game Trial onto your system before the trial is active.

Saves will transfer over if you decide to buy the game later.
Try Nintendo Switch Online for free
Games Trials are a perk for Nintendo Switch Online members alongside other benefits such as online play, access to classic Nintendo Entertainment System™ and Super Nintendo Entertainment System™ games, the ability to back up save data for compatible games, and more.
If you don't already have a Nintendo Switch Online membership, you can try it out with a free 7-day trial. For more info, visit https://www.nintendo.com/switch/online-service/.
Try it again!
If you already tried the free trial, don't fret! For a limited time, My Nintendo is offering a 7-day Trial membership for Nintendo Switch Online…even if you've tried it before. Just head to https://my.nintendo.com to redeem it.