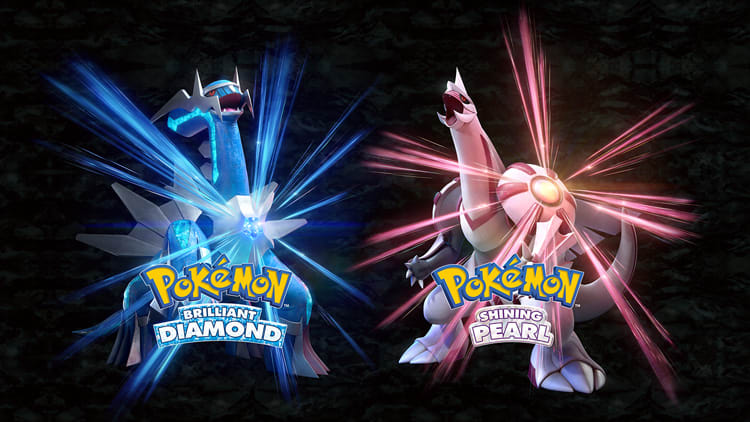 Introducing additional fun features that you can enjoy with update data
The Pokémon Brilliant Diamond and Pokémon Shining Pearl games will be released on Friday, November 19, 2021! Download the update data available on the release date and enjoy your game!
▼ First, please check whether the update data has been downloaded or not:
If you download update data, the version of your software will be updated. Press the + Button or - Button while the cursor is over the Pokémon Brilliant Diamond or the Pokémon Shining Pearl icon on the HOME Menu of your Nintendo Switch system. The version information is displayed under the title as shown on the screen. If you see Ver. 1.1.0 there, the update data has been downloaded.
Note: Please check here for more details about the update. Please check here to learn how to update the software.
▼ The content of the update data:
Includes communication features for the Grand Underground, Super Contest Shows, Union Room and Mystery Gift
You can play with other players in the Grand Underground, Super Contest Shows , and the Union Room through the Nintendo Switch system's local communication or internet connection.
If you connect to the internet and use the Mystery Gift feature, you can receive early-purchase bonuses, such as a Manaphy Egg and the Platinum Style outfit. These bonuses will be available until Monday, February 21, 2022. Please make sure to receive them!
Note: Here's how to receive gifts via Mystery Gift*.
Facilities you can visit after entering the Hall of Fame
You'll be able to visit Ramanas Park after challenging the Pokémon League and becoming the Champion in the Sinnoh region. You can face the astounding power of Legendary Pokémon here! You can visit other additional places as well, so please check them out.
Note: Please check here for other information related to the update data.
▼About scheduled future updates:
On the day of the release, interactions using local and internet communication in the Union Room will be limited to two players. However, future updates are planned to increase the maximum number of players, as well as add greeting and Capsule Decoration functions. Additionally, future updates will enable Link Trades at the Global Wonder Station (GWS) facility in Jubilife City, as well as Link Battles via the Colosseum function in Pokémon Centers.