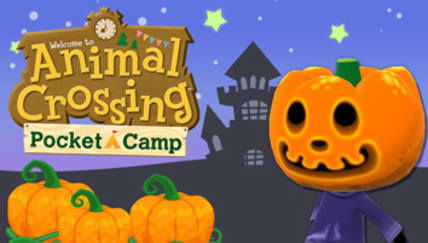 Things are getting spooky in Animal Crossing: Pocket Camp!
Great news, campers! October has arrived in the Animal Crossing™: Pocket Camp game. Be on the lookout for wonderfully wicked activities, rewards, and more.
Jack's Confection Collection, the latest event in Animal Crossing: Pocket Camp, is now live. Please check the game for the full event schedule. Hope to see you there!
Overview
Bring on the candy!
Jack's back—and he'll give you treats in exchange for sweets. Collect batty swirl lollipops to earn a spooky Halloween arch, flapping bats, or bat beret.
Fishing Tourney: Potions
Catch special fish to get potion-themed rewards in this month's Fishing Tourney. Once you catch some tourney fish, get them measured. When the total size reaches a goal, you can get in-game elixir-inspired rewards like a potion decanter, shelf of potions, and potion set.
Garden Event: Jack's Creepy Conjuring
Jack, the czar of Halloween, is hosting this month's pumpkin-inspired Garden Event. Plant presto pumpkins to attract magic hatbats, then collect these creatures and give them to Jack. You might earn event-exclusive items like mystic pumpkins, magic starry cauldron, and spellcaster set.
Scavenger Hunt: Fright-Night Scavenger Hunt
Eek! Collect fright-night gyroidite to earn items such as fright-night balloons, pumpkin treat basket, and dark angel wings.
New Fortune Cookie: Chief's fall feels cookie
You're in for a treat when you crack open one of Chief's fall feels cookies. Each cookie contains a single item, like an autumn evening swing, lovely autumn bistro set, or  pumpkin record player. Good luck!
Happy Homeroom: New Event Classes for October
Use the items you've collected this month to practice your interior design skills in two new Happy Homeroom event classes: Potion Commotion and Twilight Halloween. Lottie and friends will grade your designs. If you pass a class, you'll get HH Material and Furniture puzzle HH Medals. Earn enough medals and your HH Rank will go up!

Evil Elegance Wall & Floor Collection
This month, the Evil Elegance Wall & Floor Collection is available for crafting. Items include witching-hour wall, black quilted rug, dark flagstone floor, and more. You don't have to be evil to enjoy crafting with these spooky-sounding items!
Catch creatures to complete goals
Eek! This month, you can try to collect creepy-sounding creatures like gigas giant clams and vampire crabs.
About Animal Crossing: Pocket Camp
Animal Crossing: Pocket Camp is a free-to-start mobile game about exploring nature, making friends, and collecting cool items to help you create the campsite of your dreams.
For more information about the Animal Crossing: Pocket Camp game, visit the official site: https://ac-pocketcamp.com/en-US/site
For more information about the Animal Crossing: New Horizons game, visit the official site: http://www.animal-crossing.com/new-horizons/