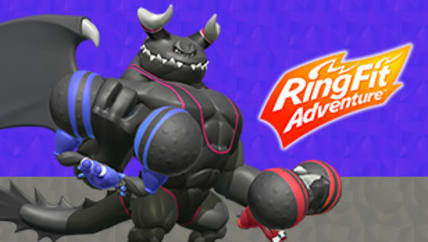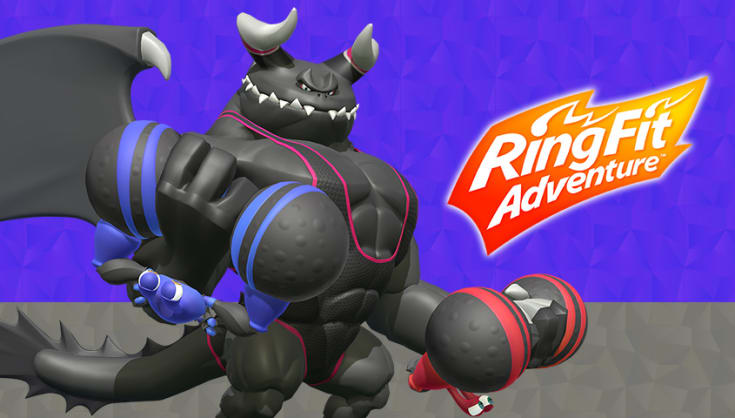 01/15/2020
Nintendo Switch
Get a fresh start to the year by keeping your mind and body active!
This year, why not resolve to try to stay more active? To help you on your way, we've put together a selection of games which may help you to keep your mind and body more active. The following games may either get you moving with motion-control gameplay or tease your brain with some fun puzzles.
Are you looking for an adventure that keeps you moving? You may want to consider the Ring Fit Adventure game, currently available in stores, which will allow you to enjoy a fully-fledged adventure game while mixing in jogging in place, yoga poses, and other exercises!
The new Ring-Con™ and Leg Strap accessories respond to your real-life movements, allowing the game to turn them into in-game actions as you battle enemies through dozens of levels. You can jump straight into action with Quick Play or create a custom workout–the choice is yours!
Quick Play offers challenges and 12 minigames that are ready when the game starts, so you can jump into a quick workout whenever you want. If you're feeling competitive, you can even pass the Ring-Con and Leg Strap accessories to a buddy and take turns in different fun activities, like breaking boxes with gusts of air, crafting pottery using squats, and more. However, if you're looking for a more formal workout, you can create a customizable workout routine, mixing exercises and minigames that can target specific muscle groups.
If you'd like to learn more about what Ring Fit Adventure has to offer, please visit ringfitadventure.nintendo.com.
Get moving with fun, boxing-based rhythmic exercises set to the instrumental beats of songs by popular artists. You can personalize your workouts by selecting from different fitness goals.
Layton's Mystery Journey™: Katrielle and the Millionaries' Conspiracy Deluxe Edition
Experience a comical, puzzle-solving story composed of adventure and rich animation. This Deluxe Edition includes more than 40 brand-new puzzles and additionally, some refined puzzles from the Nintendo 3DS™ version.
Keep the party going for hours with songs for the family to enjoy! Just Dance 2020 is the ultimate dance game with 40 hot tracks from chart-topping hits like "Old Town Road (Remix)" by Lil Nas X Ft. Billy Ray Cyrus and "God Is A Woman" by Ariana Grande.
Think outside the box to save a world in peril! As Qbby or Qucy, you'll create boxes and use them to surmount more than 270 puzzling stages—the most in the series to date!
Baba Is You is a puzzle game where you can change the rules by which you play. In every level, the rules are present as blocks you can interact with; by manipulating them, you can change how the level works and cause surprising, unexpected interactions!
Unleash an arsenal of shots and strategies in all-out tennis battles with friends*, family, and fan-favorite Mushroom Kingdom characters. You can also move your Joy-Con™ controller to gently swing your racket in Swing Mode.
Pikuniku is a puzzle-exploration game that takes place in a strange but playful world. Explore at your own pace, help quirky characters with their unusual requests, and solve clever puzzles that can challenge both kids and adults.
These elite fighting superstars share one thing in common: extendable arms! Tilt the Joy-Con controller to move your character about the arena, flick your fists to throw punches, then twist your hands to curve your punches midflight.
Complete color illustrations using colorful hint numbers! There's a grand total of 480 puzzles – 300 Picross and Mega Picross puzzles, 150 Clip Picross piece puzzles, and 30 Color Picross puzzles.
*Additional games, systems, accessories, and/or a Nintendo Switch Online membership may be required for multiplayer mode; sold separately. Nintendo Switch Online membership (sold separately) and Nintendo Account required for online features. Not available in all countries. Internet access required for online features. Terms apply. nintendo.com/switch-online