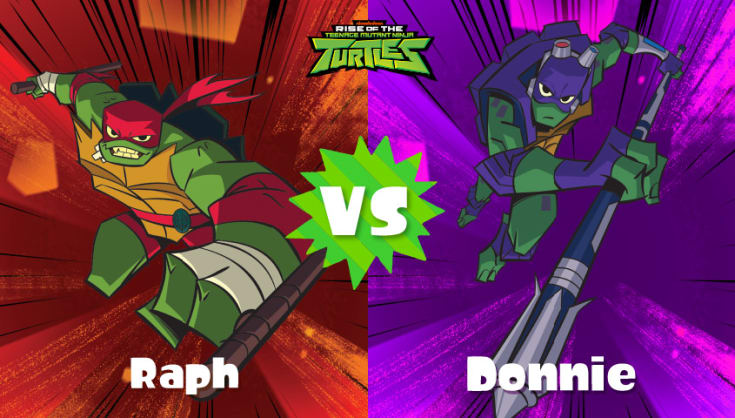 05/16/2018
Nintendo Switch
The Finals are almost here! The ultimate Teenage Mutant Ninja Turtle will be determined in the next Splatfest!
It's been an inktense and fun couple weeks of Splatfest action, but it's all been leading to this: who will be crowned the most popular Teenage Mutant Ninja Turtle? Will it be Raph? Or his equally worthy brother Donnie? Only you can decide in the final round of our tournament-style Splatfest!
As a reminder, it doesn't matter if you participated in the last two rounds or if your team won or lost. All players can vote and play in the finals. Get ready for:
Final Round: Raph vs. Donnie
May 18 (Fri) 9:00 p.m. PT – May 19 (Sat) 9:00 p.m. PT
As always, Turf War wins during each Round will help your side out, and the winner will be determined by a combination of popularity, Solo Win percentage, and Team Win percentage.
Good luck, everyone! And for more ninja action, the new ""Rise of the Teenage Mutant Ninja Turtles"" animated series debuts on Nickelodeon later this year.
For more information about Splatoon 2, visit https://splatoon.nintendo.com/ or https://splatoonus.tumblr.com/. Learn about results of past Splatoon 2 Splatfests at https://splatoon.nintendo.com/splatfests/.
©2018 Viacom International Inc. All Rights Reserved. Nickelodeon, Rise of the Teenage Mutant Ninja Turtles and all related titles, logos and characters are trademarks of Viacom International Inc.
Nintendo Account required. Online services and features, including online gameplay, are free until the paid Nintendo Switch Online Service launches in September 2018.
Game Shown: