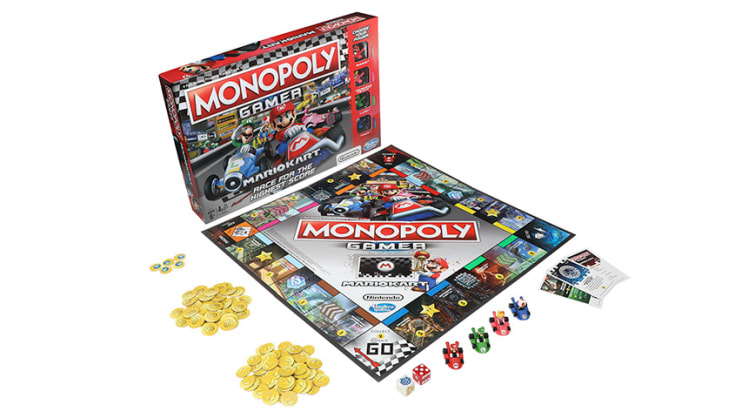 Hasbro and Nintendo join forces to add Mario Kart twist to Monopoly game
Today, the MONOPOLY brand from Hasbro (NASAQ: HAS) and Nintendo announced the launch of the MONOPOLY GAMER: MARIO KART Edition game. This new MONOPOLY game introduces the fun and competition of Mario Kart through iconic characters and unique gameplay.
The MONOPOLY GAMER: MARIO KART Edition game provides fans of all ages with exciting new ways to engage with the Nintendo brand. Throughout the game, players will pass – and potentially purchase – iconic Mario Kart themed properties such as Rainbow Road and Bowser's Castle, while simultaneously encountering familiar challenges like dodging Banana Peels, tossing Shells and scooping up Super Star spaces to win the game.
To introduce another layer of competition and strategy, landing on or passing "Go" triggers a Mario Kart race where players compete for the coveted Grand Prix card. In addition, each character token will have its own unique Power-Up ability activated by landing on a Super Star board space.
"In 2017, our fans were excited to see Mario and Mr. Monopoly join forces, so it's only fitting we continue this collaboration with another franchise favorite – Mario Kart," said Jonathan Berkowitz, Senior Vice President of Global Marketing for Hasbro Gaming. "The game will integrate iconic elements of Mario Kart into the Monopoly game, offering a one-of-a-kind experience for gamers across the globe."
"Mario Kart is a franchise cherished by fans of all ages," said Tom Prata, Nintendo of America's Senior Vice President of Strategic Initiatives. "Expanding our partnership with Hasbro to build upon the fun of Monopoly Gamer offers families even more surprising and engaging ways to interact with Nintendo characters."
Starting today, the MONOPOLY GAMER: MARIO KART Edition game is available at select GameStop stores in the United States.
The MONOPOLY GAMER: MARIO KART edition game, designed for fans ages 8 and up, will be available at mass market U.S. retailers for a suggested retail price of $24.99 in June. Additionally, fans will be able to purchase MONOPOLY GAMER: MARIO KART POWER PACKS (each sold separately), which include additional Mario Kart character tokens such as Bowser, Rosalina, Shy Guy, Metal Mario, Donkey Kong and Yoshi. The POWER PACKS will also be available in the U.S. this June at a suggested retail price of $2.99 each. Both offerings will be available globally in August.
MONOPOLY is the world's favorite family game brand and is enjoyed by more than 1 billion players in 114 countries across the globe. Fans can engage with the MONOPOLY brand across many platforms and formats, including live events, fashion licensing, digital gaming, casino gambling and more. Stay updated on the latest MONOPOLY brand news at Monopoly.com, Facebook.com/Monopoly, @HasbroNews on Twitter and @Hasbro on Instagram. For more information on MONOPOLY GAMER, visit HasbroGaming.com.