2017 National StreetPass Weekend - Spring Edition
Spring is finally here—and so is National StreetPass™ Weekend!
From April 13th-16th, collect up to six StreetPass tags from across North America when you stop by a Nintendo Zone™ location with your Nintendo 3DS™ family system.
While you're out and about enjoying the warmer weather, be sure to take advantage of the cool StreetPass features in these popular games:
Poochy & Yoshi's Woolly World™
Design a whole new pattern for Yoshi, and then share your personalized Yoshi via StreetPass!  Don't forget, this game has a free demo, too!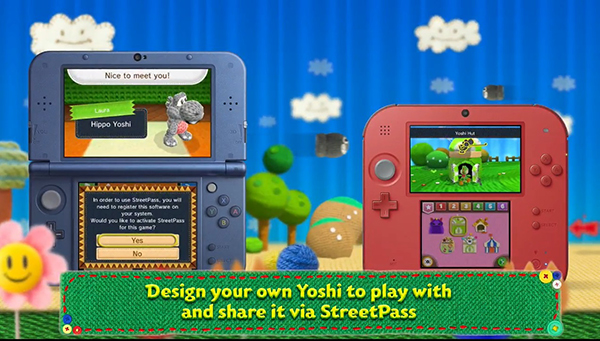 StreetPass Adventurers - Using the StreetPass feature, you can summon adventurers from other systems that have StreetPass activated for this software title. These adventurers can be used as allies in battle!

Super Mario Maker™ for Nintendo 3DS
You can use the StreetPass feature to share your favorite course with others—and get theirs in return.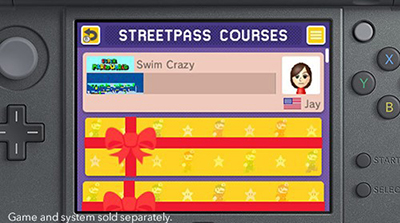 Animal Crossing™: New Leaf - Welcome amiibo
Did you know that you can get special in-game furniture and items when you visit a Nintendo Zone location?  In addition, you can get one item from Nintendo by in-game mail via the SpotPass™ feature!  Get these special pieces and add these spring-themed pieces to your room:
Cherry-blossom clock (4/1-4/15) in Nintendo Zone
Taurus bathtub (4/16-4/30) in Nintendo Zone
Lotus pond (from Post Office)
DRAGON QUEST® VIII: Journey of the Cursed King
Take pictures of people, places, and slimes throughout your journey, then show them off to other players through the StreetPass feature. Depending on the ratings you receive, your pics can earn fun photo embellishments for you to use, like filters, stamps, and more!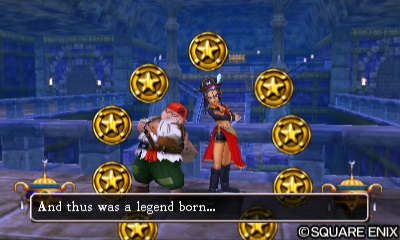 Dragon Ball Fusions offers the ability to use the Street Pass function! Activate StreetPass in Dragon Ball Fusions and select a Dragon Ball character you would like to fuse with others. After exchanging your StreetPass data with someone else, fuse the two characters together. You'll be able to  encounter other players' StreetPass opponents and fight them (AI driven only).

You can use the StreetPass feature to share game stats with others—and see their stats in return.  You can also earn one heart per five StreetPass occasions.  Pokémon Shuffle is also giving away a special in-game gift every day for those who check-in until the promotion ends on 4/18!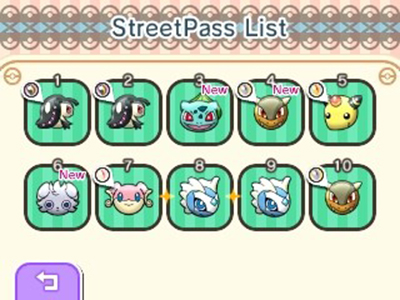 STORY OF SEASONS: Trio of Towns
With StreetPass enabled for STORY OF SEASONS: Trio of Towns, farmer profiles and pet information are automatically shared between systems that get close to one another. Your pet may visit Westown in another farmer's game, and you can talk to pets that visit your game to see a profile of their owner. Pets that visit other games will fetch items that can be collected from Dessie, the little green-haired goddess. The more farmers you exchange info with, the more items you will receive!

Find a Nintendo Zone hotspot near you here: http://www.nintendo.com/3ds/nintendozone.
For more information on the Nintendo 3DS system's StreetPass feature, visit http://www.nintendo.com/3ds/built-in-software/streetpass.
For questions about StreetPass events, check out the Support FAQ.
Games Rated: