Chip away at a three-dimensional block puzzle to reveal the object hidden within. Only this time, blocks can be painted with two colors of paint to mold detailed shapes. Enjoy more than 300 puzzles at the Café or even tap compatible amiibo™ figures (sold separately) to solve 10 more puzzles hiding secret Nintendo characters!
In the Café, the more puzzles you complete, the more that open up to play. Accomplish certain objectives, like getting a high ranking on 30 puzzles, and you'll earn even more. You can choose between easy, medium, and hard difficulty levels for each one, but no matter the complexity, you'll always be rewarded with the hidden object. Some sets of puzzles offer additional tasks, from Timed Challenges to One-Chance Challenges. With this many brainteasing activities, there are always new risks to take and hidden objects to find!
Solve over 300 3D Picross puzzles using two colors of paint
Complete a variety of objectives to unlock even more puzzles
Scan compatible amiibo™ figures to unlock additional Nintendo character puzzles
Every puzzle can be completed in three difficulty levels: easy, medium, and hard
Additional challenges include timed puzzles and one-chance puzzles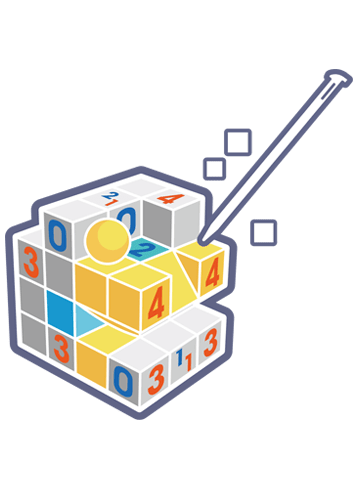 © 2015 ? 2016 HAL Laboratory, Inc. / Nintendo. Picross 3D and Nintendo 3DS are trademarks of Nintendo. © 2016 Nintendo.