Original Pack 4 (10th Anniversary)
A DLC pack for GROOVE COASTER WAI WAI PARTY!!!! that includes 10 songs, navigators, and avatars!

This pack includes the following content.

■Song Pack (10 songs)
・1llusion 0f the FAIRYtALE hARMONY / LINKA (CV: Moe Toyota)・YUME (CV: Nanami Takahashi)・SEINE (CV: Eriko Kawakami)
・Play merrily NEO / Shohei Tsuchiya (ZUNTATA) feat. Aimee B
・Invader OnDo / COSIO
・Seija no Kigan / Tatsh
・DX Choyasei! Survival Zundoko Chan / IOSYS TRAX with Chiyoko
・koinegau / technoplanet feat. Shun [RIGEL]
・Valkyrja Requiem / iTIC
・COSMOSTART / D-D-Dice
・Happy 10th anniversary / Shohei Tsuchiya(ZUNTATA) feat. Huddleston Gary Scott
・???(Secret)

■Navigator
・Linka (Fairy) *with voice
・Yume (Fairy) *with voice
・Seine (Fairy) *with voice
・Full Metal Zundoko Chan *with voice
・Survival Zundoko Chan *with voice

■Avatar
・LINKA(Fairy, 2D)
・YUME(Fairy, 2D)
・SEINE(Fairy, 2D)
・Survival Zundoko Chan(2D)

*Some content will be unlocked via missions after downloading.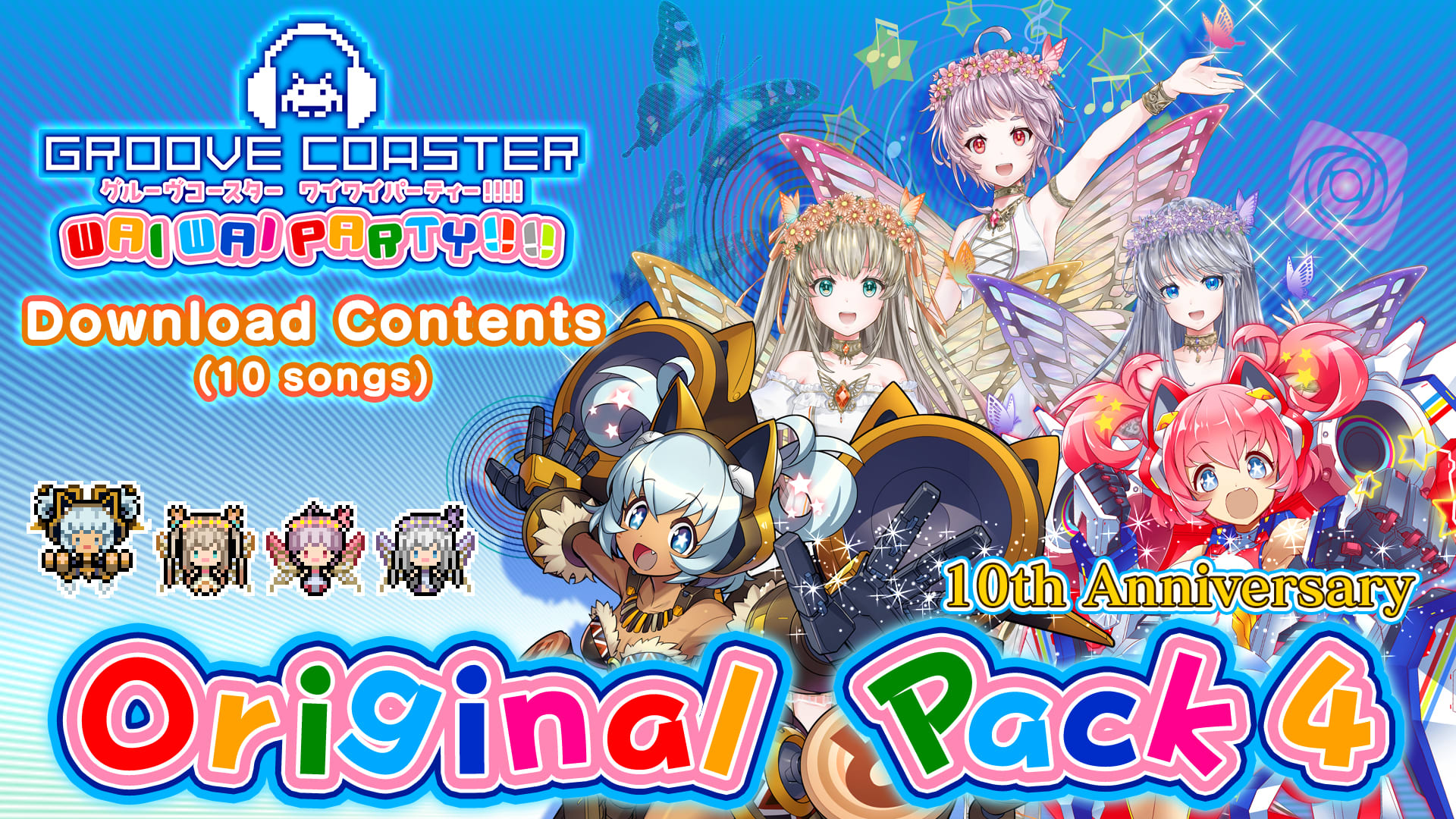 Supported play modes
Handheld mode, Tabletop mode, TV mode
In order to install the downloaded content, a larger volume of free space may be needed than what is written. In the case that there is not enough space on your system, please organize your unneeded software or use a microSD card with enough free space on it.
© TAITO CORPORATION 1978,2021 ALL RIGHTS RESERVED.