Mario + Rabbids® Kingdom Battle
Já disponível
Mario junta-se aos Rabbids para salvar o Reino dos Cogumelos!

UMA DEMANDA ÉPICA
Explora 4 regiões repletas de baús, segredos e puzzles.

COMBATES LOUCOS
Pela primeira vez, Mario usa armas para vencer os seus inimigos em combates loucos por turnos e desafios cooperativos.

EQUIPA ÉPICA
Conhece 8 heróis com personalidades e habilidades próprias!

COLISÃO DE MUNDOS
Descobre o Reino dos Cogumelos como nunca, modificado pelos traquinas Rabbids, mas repleto de piscares de olho aos jogos de Mario.
Saiba mais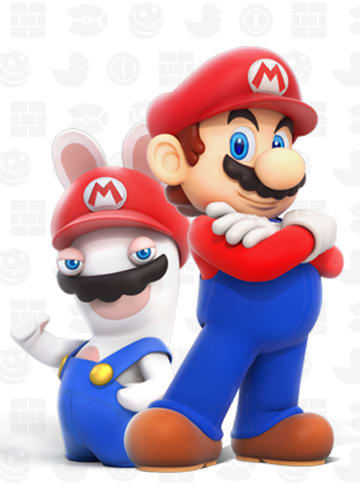 Lançado em:

11 Fevereiro 2021

Jogadores:

Até 2 jogadores

Gênero:

Aventura, Estratégia

Desenvolvido por:

Ubisoft Paris

Tamanho do arquivo:

2.9 GB

Idiomas disponíveis:

Francês, Alemão, Italiano, Espanhol, Holandês, Russo, Chinês, Inglês
Modos compatíveis:

Modo TV

Modo semiportátil

Modo portátil

A compatibilidade de software e a experiência de jogo podem ser diferentes no Nintendo Switch Lite. Acessórios adicionais, vendidos separadamente, podem ser necessários. Para mais informações, visite support.
Jogue partidas online, acesse jogos clássicos do Super NES™ e muito mais com uma assinatura do Nintendo Switch Online.
Este jogo é compatível com:
Pacote de jogo + conteúdo extra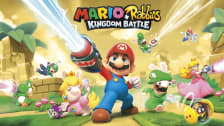 Mario + Rabbids Kingdom Battle Gold Edition
Carregando
Two worlds collide in Mario + Rabbids® Kingdom Battle! Gold Edition includes game and season pass:
• 8 new solo challenges + 5 co-op maps
• 16 new weapons.
• An exclusive world featuring a new hero, coming in early 2018.

The Mushroom Kingdom has been torn apart by a mysterious vortex, transporting the chaotic Rabbids into this once-peaceful land. To restore order, Mario, Luigi, Princess Peach, and Yoshi must team up with a whole new crew: four Rabbids heroes! Together, they will battle with weapons through four worlds filled with combat, puzzles, and unpredictable enemies.

Developed exclusively for the Nintendo Switch™ system, Mario + Rabbids Kingdom Battle is the best of the Mario and Rabbids franchises, combining all that you love about Mario's iconic universe with the side-splitting antics of the Rabbids.
Pacotes de conteúdo extra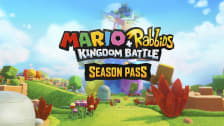 Mario + Rabbids® Kingdom Battle : Season Pass
Carregando
Continue your journey through the twisted Mushroom Kingdom with the Mario + Rabbids Kingdom Battle Season Pass. Get access to exclusive weapons and 2 DLC packs as they're released.

Get the Steampunk Pack, exclusively with the season pass, which includes an exclusive weapon for all eight heroes in a unique steampunk style.
Conteúdo extra individual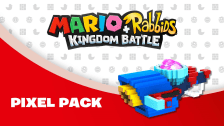 Mario + Rabbids® Kingdom Battle : Pixel Pack
Carregando
Unlock 8 unique Pixel-style weapons for your heroes!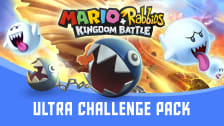 Mario + Rabbids Kingdom Battle Ultra Challenge Pack
Carregando
The Ultra Challenge Pack will put you to the test with:
8 new ultra-hard challenges inside each world's Secret chapter

5 exclusive co-op maps

Gather your heroes and dive into eight new Ultra Hard Challenges to prove your worth! In addition, a gust of chaos brings frenzy to the co-op mode; Chain Chomps, Tornados, Boos and Pyroclasts have become unstoppable and are wreaking havoc on the 5 exclusive new co-op maps.

Get ready to team up against their chaotic forces in the brand new Cataclysm Kerfuffle Co-op Campaign!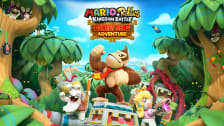 Mario + Rabbids® Kingdom Battle Donkey Kong Adventure
Carregando
Embark on an epic battle against Rabbid Kong, who takes over a mysterious island. Donkey Kong, Rabbid Peach, and a moody new Rabbid hero, Rabbid Cranky, team up on a journey across four brand-new environments. Discover a world of tactical gameplay and secrets to uncover. Experience a new story that expands the Mario + Rabbids® Kingdom Battle universe! Discover hours of new gameplay with more than a dozen battles and tactical adventures to experience. Witness a world of Donkey Kong references and the Rabbids' irreverence that create offbeat situations and fun encounters. Chain together new moves, like swinging with dandelions or climbing high ground, to conquer your foes.
* Preço de venda sugerido pelo fabricante. O preço final pode variar. Consulte o revendedor para mais detalhes.
Uma assinatura do Nintendo Switch Online (vendida separadamente) é necessária para a funcionalidade de cópia de segurança na nuvem.
MARIO + RABBIDS KINGDOM BATTLE © 2017 Ubisoft Entertainment. All Rights Reserved. Rabbids, Ubisoft and the Ubisoft logo are trademarks of Ubisoft Entertainment in the U.S. and/or other countries. Nintendo properties are licensed to Ubisoft Entertainment by Nintendo. SUPER MARIO characters © Nintendo. Trademarks are property of their respective owners.