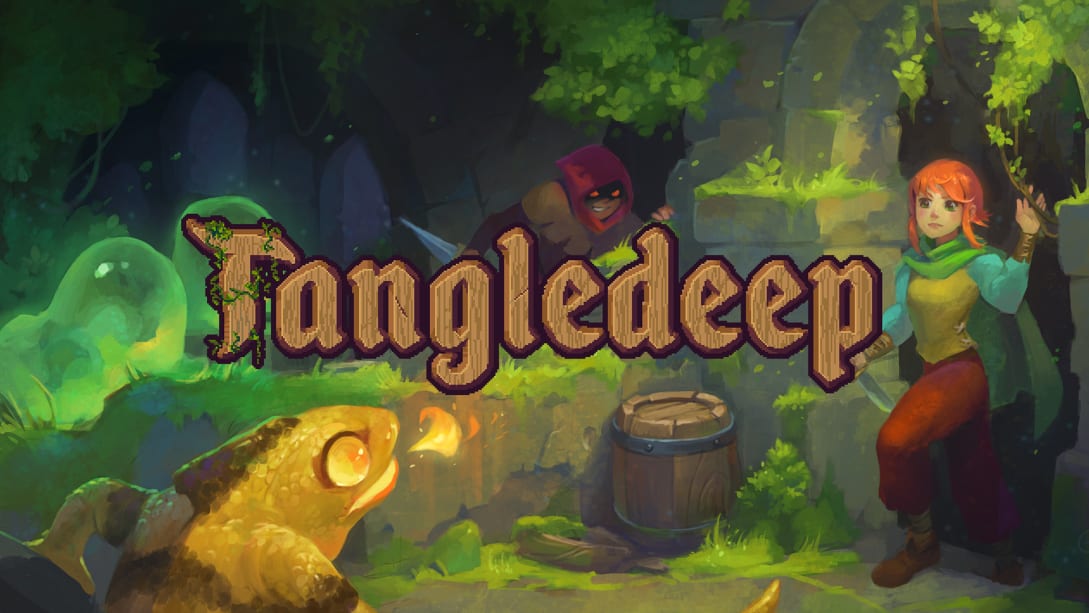 Explore the ever-changing, verdant labyrinth Tangledeep in this turn-based dungeon crawling RPG!
Tangledeep combines the 16-bit graphics and polish of classic RPGs with elements from roguelikes and dungeon crawlers to create a magical experience for players of all skill levels. Trapped in underground villages with no memory of the world at the surface, you must survive an ever-changing labyrinth to discover what lies above.

Experience rich, tactical, turn-based gameplay as you explore a sprawling dungeon that's different each time you play. Tangledeep features a customizable job system and hundreds of collectible items that allow you to approach each playthrough in a totally new way!

** Now includes the LEGEND OF SHARA expansion content for free! **

KEY FEATURES

* Master deep, tactical turn-based combat across 13 unique jobs with over 100 skills.

* Choose between three game modes – including Adventure Mode, which removes the pain of permadeath.

* Capture nearly any monster in the game and raise them in the Monster Corral as a pet, or breed them with other monsters!

* Make your experience easier, harder, or just plain wackier with over 15 included Game Modifiers.

* Share some of your progress between characters by using the banking system and planting magic trees.

* Explore ITEM DREAMS, randomized mini-dungeons where anything goes, and power up your gear!

* Take in the scenery – comprised of beautiful 16-bit graphics and carefully handcrafted maps!

* Relax to a beautiful soundtrack inspired by the most legendary RPGs of the 16-bit era, composed by award-winning composer Andrew Aversa – joined by Hiroki Kikuta, Grant Kirkhope, and Norihiko Hibino!

LEGEND OF SHARA EXPANSION CONTENT

* Shara's Story: A new tale in the world of Tangledeep with a unique story, boss encounters, and new gameplay!

* A 13th job, the Calligrapher, armed with two weapons, elemental scrolls, and devastating combo attacks!

* Increased level cap: from 15 to 20! With this new level cap comes even more powerful items and challenges to discover.

* Dozens of new monsters with new powers! You can capture and tame them, too!

* Begin your ascent in Riverstone Waterway instead of Cedar Caverns: a new early-game path with slightly more challenge and greater rewards.

* Challenge the Realm of the Gods, a new post-game area with the hardest monsters and champions imaginable!

* Encounter the Mysterious Wanderer and explore Wanderer's Journeys: entirely new dungeons with bizarre creatures, scenarios, and treasure.

* Discover ancient Relics, rare items with limitless combinations of legendary powers and bonuses!

* Strange new Item Dreams that twist and warp areas you've already visited with new events, monsters, items, and objects.

* Unearth Runes of Knowledge, a set of tablets that teach special abilities not found anywhere else!

* New monster sprites, tile sets, layouts, item graphics, effects, and music!

NINTENDO SWITCH™ EXCLUSIVE CONTENT

Redesigned controls and interface specifically for Joy-Con™ and Nintendo Switch™ Pro Controller!
Read more
Explore this game's official site
Release date:

January 31, 2019

Genre:

Adventure, Strategy, Role-Playing

Publisher:

Impact Gameworks

Developer:

Impact Gameworks

Supported Languages:

Japanese, German, Spanish, Chinese, English
Supported Play Modes:

TV mode

Tabletop mode

Handheld mode

Software compatibility and play experience may differ on Nintendo Switch Lite. Additional accessories may be required (sold separately). See support for details.
Play online, access classic Super NES™ games, and more with a Nintendo Switch Online membership.
Individual DLC
Dawn of Dragons
Loading
Dawn of Dragons expands the world of Tangledeep, introducing brand-new dungeons, bosses, gameplay mechanics, items, and monsters to challenge players of all levels!

KEY FEATURES
* Discover the Ancient Dragons, super-powerful boss monsters that inspire fear into even the heartiest adventurers!
* Venture through Dragon Dungeons, themed areas offering new gameplay mechanics, layouts, and challenges!
* Obtain Dragon Souls, granting you unique powers to unleash in your most desperate moments.
* Wield a new weapon type (Whips) with four mastery abilities! Lash and pummel groups of enemies with finesse!
* Give old items a new purpose with an unlockable crafting NPC, who offers a variety of useful recipes to create the items you need.
* Empower your fists with Wraps, handwear that allows you to enchant your fist attacks without interfering with other bonuses.
* Battle (or capture!) a menagerie of new monsters, from psychic rats and prismatic jellies to acid elementals, robots, flying snakes and more.
* Enchant your equipment with dozens of powerful new magic affixes that can change or strengthen your build.
* Recruit a helpful new NPC in town who offers a wide variety of item crafting recipes.
* Beautiful new pixel art and music, of course!

THE DRAGONS RETURN!
Something has awakened Tangledeep's oldest creatures from their deep slumber, unleashing untold dangers upon the world! The Frog, Jelly, Echo, Tyrant, and Bandit Dragons are incredibly powerful boss monsters whose strength scales to the player's level. Discover their mysteries and face them before it's too late!

DRAGON DUNGEONS
Each Dragon resides in their own multi-floor dungeon, each of which sports new layouts, mechanics, and monsters. Defend vinelings from stampeding hordes of monsters in tower defense-style gameplay, fight alongside an army of Jellies to win back territory, tread among resurrecting ghosts, floor traps, gates, teleporters, and more.

WHIPS
A fresh new weapon type for adventurers at any stage in their quest! Whips use a mix of Strength and Swiftness to attack an enemy and everything surrounding it, making it an excellent choice for fighting groups of foes. Its Weapon Masteries further specialize into area damage, adding attack debuffs like Root and Paralysis as well.

NEW MAGIC MODIFIERS
Magic mods (affixes and prefixes) are at the heart of Tangledeep's equipment and character customization. With Dawn of Dragons, you'll find 24 exciting new mods that can completely change or enhance your build! Strip enemy buffs with your two-handed weapon, surround yourself with an energy shield, fire exploding arrows, get a Coolfrog companion, and even summon champion monsters to fight for you. These are just a few of the new powers available!

HAND WRAPS
For those that prefer to fight monsters with bare fists, a new item type is at your disposal: hand wraps! These are equipped in your weapon slot or offhand, and can be found or enchanted with a huge variety of magic modifiers. However, unlike every other weapon type, these do not interfere with your unarmed fighting bonuses. Your punches and kicks have never been so fierce and stylish!
A Nintendo Switch Online membership (sold separately) is required for Save Data Cloud backup.
Copyright 2019 Impact Gameworks