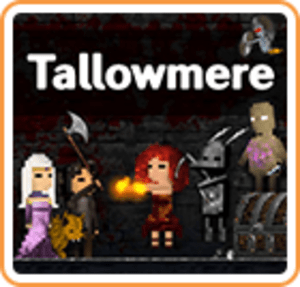 Raise your shield. Embrace Lady Tallowmere's dungeons. How far can you make it?
Greetings, hero.
How far through Lady Tallowmere's dungeons can you delve?
Each randomly-generated room gets bigger, harder, and more rewarding the further you go.
Raise your shield and hunt for the key in each room - or die trying.
Be on your guard for every enemy, elite, boss, and treasure chest you'll encounter.
Discover new weapons and armor ranging from Basic to Otherworldly.
Brace yourself as you learn the quirks of each foe, trap, and room type so you can strive for that "one more run" high-score victory!
Key features:
2D action roguelite platformer
Supports 1-4 local players
Infinite number of randomly-generated rooms
Tiered loot including axes, clubs, katanas, daggers, ice wands, grenades, rocket launchers, and flamethrowers
Local high score board and achievements
Challenge modes
Sacrificial kittens
You're not afraid... or are you?
To those who will be lured into Lady Tallowmere's dungeons: good luck.
Read more
Release date:

September 01, 2016

Publisher:

Chris McFarland

Developer:

Chris McFarland
*If eligible for a Just for You offer, the final price reflects the combined Sale and Just for You offers. The Just for You offer is discounted from the sale price.
© Chris McFarland 2016