Shakedown: Hawaii
Available now
Build your corporate empire and destroy the competition.
Build your corporate empire and destroy the competition.

Shakedown: Hawaii follows three protagonists through a 16-bit open world. Build your own "legitimate" corporation by completing missions, acquiring businesses, sabotaging competitors, "re-zoning" land, and shaking down shops for protection money.

Explore the island by foot, by car, or by boat. It's filled with arcade challenges, sidequests, stores to shop at, houses to burgle, civilians to interact with, and secrets to discover.

You begin your adventure as an aging CEO, struggling to make sense of the modern world. Online shopping killed his retail stores, ride sharing his taxi business, and streaming his video stores. To save the company, he'll need to learn the "methods" of modern business, and use them to rebuild his empire.

The entire island is up for grabs... or at least, could be with the right business model.

It's business in the front, and bodies in the back... in Shakedown: Hawaii.
Read more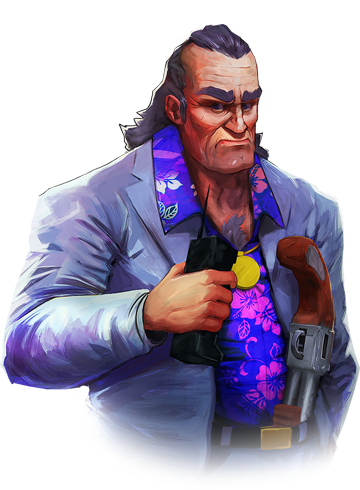 Release date:

September 19, 2019

Genre:

Action, Adventure, Racing

Publisher:

Vblank Entertainment

Developer:

Vblank Entertainment
*To enjoy the 3D effect of Nintendo 3DS software, you must experience it from the system itself. All screenshots and videos on this website have been captured in 2D mode.
Use Parental Controls to restrict 3D mode for children 6 and under.
*If eligible for a Just for You offer, the final price reflects the combined Sale and Just for You offers. The Just for You offer is discounted from the sale price.
©2019 Vblank Entertainment Inc. All Rights Reserved.