Professor Layton vs. Phoenix Wright: Ace Attorney
Available now
Ace Attorney and Ace Investigator Join Forces!
This game made the top 10 in Club Nintendo's Fan Faves 2014 survey! Learn more >
---
Two of gaming's biggest sleuths team up to solve the most puzzling mystery they have ever encountered. For the first time ever, the mind-bending puzzles of the Professor Layton series meet the courtroom drama of Phoenix Wright: Ace Attorney.
FEATURES:
Follow Professor Layton and Phoenix Wright as they are transported from London to the mystical city of Labyrinthia, where they must help Espella Cantabella, a girl accused of being a witch.
Two different game-play styles work together in unexpected ways. Solve puzzles familiar to fans of the Professor Layton series in Adventure mode to move the story forward, and then cross-examine witnesses as Phoenix Wright in Trial mode.
Phoenix Wright must be on his toes for group cross-examinations. Pit one person's testimony against another's to get the story straight, and then literally rewrite history alongside the city's greatest puzzle-solving duo.
Listen to the gorgeous musical score by the original composers from both series, combining the vivid sounds of Professor Layton with the dramatic themes of the Phoenix Wright games.
Read more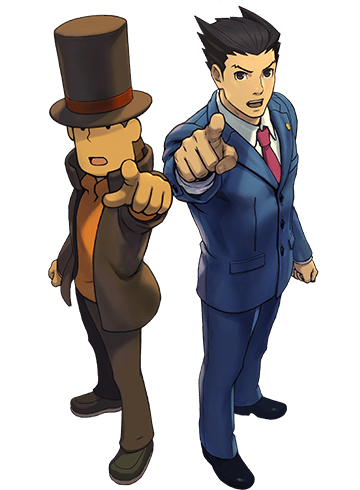 Release date:

August 28, 2014
*MSRP: Manufacturer's Suggested Retail Price. Actual price may vary. See retailer for details.
*To enjoy the 3D effect of Nintendo 3DS software, you must experience it from the system itself. All screenshots and videos on this website have been captured in 2D mode.
Use Parental Controls to restrict 3D mode for children 6 and under.
*If eligible for a Just for You offer, the final price reflects the combined Sale and Just for You offers. The Just for You offer is discounted from the sale price.