Noitu Love: Devolution
Available now
Classic arcade action inbound!
"Noitu Love: Devolution" stars Xoda Rap - the new Peacekeepers prodigy – who has to protect the city from the onslaught of the evil Darn horde, thought to have been vanquished a hundred years ago! But this time, they bring with them more than just their grins, as the city is bending and deforming into different times and places! What could be going on?
Play through an action-packed, classic arcade-like game, with a creative input method where your motions and aiming send you rocketing at your foes for a very fast-paced romp. Tons of bosses, several playable characters and a lot of explosions!
Read more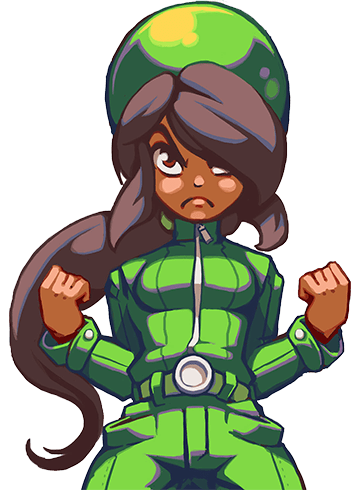 Release date:

September 14, 2016
*To enjoy the 3D effect of Nintendo 3DS software, you must experience it from the system itself. All screenshots and videos on this website have been captured in 2D mode.
Use Parental Controls to restrict 3D mode for children 6 and under.
*If eligible for a Just for You offer, the final price reflects the combined Sale and Just for You offers. The Just for You offer is discounted from the sale price.
*You may need to upgrade your current SD Card to a compatible SDHC Card or microSDHC Card with enough available space to download this software.
Visit support.nintendo.com for information about storage options. Sold separately.

*The same Nintendo Network ID must be linked to your Wii U and Nintendo 3DS systems as well as your eShop account prior to purchase in order to be eligible for discount.
Developed by Joakim Sandberg and MP2 Games. Published by MP2 Games. Noitu Love: Devolution © 2007-2016 Joakim Sandberg.