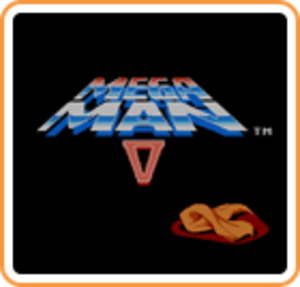 Betrayed by his own kin, Mega Man must fight Protoman and accomplices to save Dr. Light!
Protoman has gone berserk! Destroying half the city was not enough. Now, he has kidnapped Dr. Light and is holding him and the entire city hostage. Speeding to the rescue is Mega Man and his modified Mega Buster, but eight of Protoman's cybernetic soldiers plan to send Mega Man to the scrap heap for good!
Feel the weight of the world on your shoulders as you battle Gravity Man! Chip away at the rock-life defenses of Stone Man and bring him crumbling down! Hit the surf and sail up against the tidal power of Wave Man! Guide Mega Man through 13 action-packed stages and defeat all eight of Protoman's robots, then get ready for the fight that pits brother against brother in the battle of the century!
In the fifth chapter of the original Mega Man series, the battle is closer to home as Mega Man fights to save the world from further destruction. Gain the advantage by picking up items and successfully defeating bosses to gain their weapons as your own. Get ready for intense action-platforming in 13 stages before taking up battle against Protoman!
This game is only playable in 2D.
This classic game is part of the Virtual Console service, which brings you great games created for consoles such as NES™, Super NES™ and Game Boy™ Advance. See more Virtual Console games for Nintendo 3DS.
Read more
Release date:

May 16, 2013

Genre:

Action, Arcade, Platformer
*To enjoy the 3D effect of Nintendo 3DS software, you must experience it from the system itself. All screenshots and videos on this website have been captured in 2D mode.
Use Parental Controls to restrict 3D mode for children 6 and under.
*If eligible for a Just for You offer, the final price reflects the combined Sale and Just for You offers. The Just for You offer is discounted from the sale price.