Fantasy General II: Invasion
Available now
The fantasy wargaming classic is back! Lead powerful heroes and mighty armies into battle in this critically acclaimed turn-based strategy milestone.
Fantasy General II: Invasion is the reimagination of the strategy game classic from the 90s!
Armies once again draw battle-lines on the war-torn land of Keldonia, and a new generation of commanders will test their bravery and tactics against each other. Fantasy wargaming is back!

True to the tradition of the original game, Fantasy General II is all about turn-based battles. Lead over 75 different unique unit types, including powerful heroes.
Take into consideration terrain, weapons and armour, magical effects, morale, and the balance of forces, make a plan, execute it, and vanquish your enemy, forging your reputation as a savage war-leader.

The battles

Battle after battle, you will need to make decisions and develop your army. The young clan members will need to be trained, and as they gain enough experience, even the greenest recruits can be turned into champions. But beware: costly victories can be worse than a defeat… when battle-hardened units perish, so does their progression and experience.
Each unit comes with their specific abilities, arms and armour, and they can be equipped with magic artefacts you find during battle and upgraded with gold and resources that you need to plunder from your enemy.

The clans

A confederation of autonomous hill-land tribes, who value their independence and will fight fiercely for it.
Field axemen, berserkers, spearmaidens, trolls and shamans, summon ancestor spirits and mighty elementals or train nimble stag riders and deadly werebears or recruit mercenaries from longbowmen to centaurs.

The Empire

The most powerful realm on the face of Aer.
Face the mighty Legions of the Empire and their magical creations from dragon cannons to golems as well as the Undead hordes they bring to battle, or fight harpies, lizard people and great dragons on your way.

The World

The world of Aer is filled with beauty and wonders. From the cold, magic-rich highlands of Fareach, home to the player's Barbarian Clans, to the Borderlands with their fertile river valleys and deep woods where witches and monsters still roam free; from the Sunken Land, submerged through a great Cataclysm and filled with treacherous swamp and Lizardfolk, to the refined and temperate Empire to the South, home to wondrous cities and built upon undead labour. Your campaign will see you fight across very different battlefields, requiring variable tactics and army composition.
Read more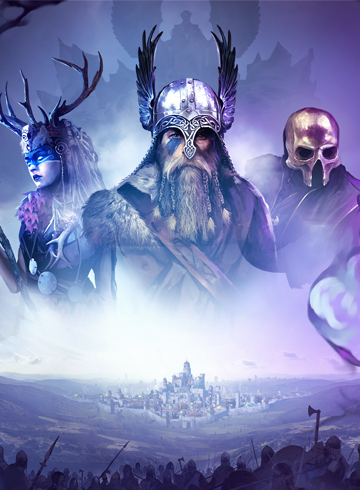 Release date:

October 21, 2021

Genre:

Strategy, Role-Playing

Publisher:

Slitherine Software

Developer:

Owned by Gravity

Supported Languages:

English, French, German, Spanish
Supported Play Modes:

TV mode

Tabletop mode

Handheld mode

Software compatibility and play experience may differ on Nintendo Switch Lite. Additional accessories may be required (sold separately). See support for details.
Play online, access classic Super NES™ games, and more with a Nintendo Switch Online membership.
Individual DLC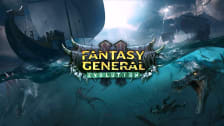 Fantasy General II: Evolution
Loading
Encounter, Eat, Evolve

It is a hard world for the Lizardfolk and the young newt Szzlag and his siblings, who have been expelled from their home to carve out a new place of their own in the land. Follow the evolution of Szzlag the Devourer from newt to mighty lizardfolk hero and become the master of the Broken Isles, facing unprecedented dangers from a race of foreign invaders, never before seen by your kind.

Fight through highly variable and interlocking missions that allow you to choose your own path to fame and food. Eat or be eaten and as you lead your tribe to victory or end up as someone else's meal.

Featuring:

New highly flexible story campaign with over 20 missions in total
5 New Onslaught Missions for the Amulet of Power Campaign and 2 new heroes unlocked: Szzlag and Falirson the Hunter
New map terrain and world map: The Archipelago
Over 20 new items
New playable hero: Szzlag
New Resource: Evolution points help you grow and change your hero or your army
New enemies: Several types of giant crabs, sharks and a variety of warships
Falirson the Hunter unlocks as alternate choice for Invasion campaign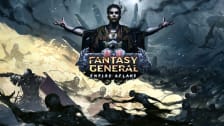 Fantasy General II: Empire Aflame
Loading
Shadow Rising
A Civil War is ravaging the Empire, laying waste to the once proud realm. Keep the Imperial Peace in the Northern Provinces and fight Frost Trolls, Harpies and Barbarian raiders as the young transmuter Moira and the Imperial noble Filos and discover a dark secret at work in the Shadows. Summon undead to your side or conscript villagers into your ranks, cast powerful draining magic or direct your army into different formations to adapt them to your needs.

You will decide the fate of the fallen Empire and all of Keldonia. Join the forces of the Shadowlord or resist him and seek to stem the tide of his minions.
In this next chapter of the Keldonia campaign, you fight as the Empire facing a new type of enemy, born from the Shadowlord's realm and spreading like a dark plague.
Features
- A branching story campaign: Combining the best of the first two campaign systems, Empire Aflame provides an intense story following the young Transmuter Moira in her rise to power while offering a wealth of map choices and completely different ways to play. Will you fight the new threat to Keldonia's very existence or join the Shadow forces and plunge the world into darkness forever? Over 40 maps allow you to play completely different campaigns.
- Shadow Forces: A swarm of demonic creatures that can infect settlements and transform them into shadows portals
- New Faction: Play as the Empire and experience a very different style of campaign with new faction rules.
- New environments: Winter has come to Keldonia with two new map themes
- New units: 5 new Frost Trolls and 5 different types of Shadow Creatures roam the land. New secondary heroes such as Szzlag the Devourer and Ocram, the Transmuter each with their own skill tree.
- New Main Heroes, New Skills: Moira, the young Transmuter and Filos, the haughty general, all with new faction abilities and skill trees. These will also be added to the Onslaught campaign roster!
- New Vendors – make use of various merchants and vendors
- New Training – your heroes offer new training to your units from the start of the campaign.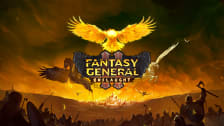 Fantasy General II: Onslaught
Loading
Death comes from above in the new expansion for Fantasy General II, Onslaught!

13 new aerial units are introduced, greatly expanding the original roster and allowing for daring new tactics and manoeuvres. Eagle Bombers, Firebirds, Pegasus Flamers, Monster Hunters, and more: you'll have no shortage of options.

Deploy these units in the brand-new ONSLAUGHT campaign, where a strange dream leads you to hunt for the mysterious Book of Krell. The campaign has over 30 procedurally generated maps, from the abandoned castle of King Dragga to the Lizard infested shores of Eastern Keldonia, until you must finally face The Unspeakable. Choose your General from one of several heroes, each with different skills, armies and advantages, pick your rewards for winning maps and evolve your strategies: the campaign provides endless replayability. Combined with the new Iron Maiden mode, Onslaught offers the ultimate Fantasy General II challenge.

A bonus map has also been added to the Invasion campaign, introducing the new aerial units and a Barbarian Clan of Eagle Riders that you must help in order to gain the Giant Eagle's support.
Features:
- 13 new aerial units including Giant Eagles, Nightmares, Flamethrowers, Hunters and Firebirds
- A campaign of over 30 procedurally generated maps to choose from providing massive replayability, where you select your preferred hero and go on the hunt for the Book of Krell and face The Unspeakable.
- A new map for the Invasion campaign introducing the aerial units and a Barbarian Clan of Eagle Riders.
A Nintendo Switch Online membership (sold separately) is required for Save Data Cloud backup.
©2019 Slitherine Ltd. All Rights Reserved. Slitherine Ltd. and their Logos are all trademarks of Slitherine Ltd. All other marks and trademarks are the property of their respective owners. Developed by Owned by Gravity and Slitherine Ltd.
FANTASY GENERAL® is registered trademark of GOG sp. z o.o., used with permission. All rights reserved.