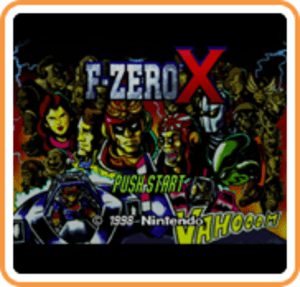 In this futuristic racer, the key to winning is speed!
Choose from 30 different hover-car racers, including updated versions of the Blue Falcon and other vehicles from the original F-Zero, and get ready to play one of the fastest racers ever! Race to the finish line on tracks that twist and turn through the air. However, you will have to avoid the other 29 cars on the track or else face the consequences! If you're in a competitive mood, try to win a Grand Prix Cup, get the fastest lap time in a Time Trial, or destroy the competition in a Death Race. You can also challenge three friends in the Versus mode. With five separate play modes, hidden vehicles and courses, and an excellent sound track, F-Zero X still represents one of the best racing titles to date!
This classic game is part of the Virtual Console service, which brings you great games created for consoles such as NES™, Super NES™ and Game Boy™ Advance. We hope you'll enjoy the new features (including off-TV play) that have been added to this title. See more Virtual Console games for Wii U.
Read more
Release date:

January 12, 2017
*If eligible for a Just for You offer, the final price reflects the combined Sale and Just for You offers. The Just for You offer is discounted from the sale price.
© 1998, 1999 NINTENDO Co., Ltd.