Cube Creator DX
Available now
Collect, build, craft, combat, and explore the world of cubes with friends. Design and share your creations.
Cube Creator DX is a creative, action-adventure game with a freedom to explore the world of cubes with the look and feel coming from Japanese gameplay origins. Fight against monsters, gather resources, and craft new materials in this enhanced Cube Creator adaptation. You can build stages and share them with friends, or download stages created by other players in the Swapatorium - the place to view and try out stages. A swath of brand new monsters and enemies come out at night, and you'll have to evade or fight them, or even place them into your own original worlds. There are also lots of new animals that can be collected, and can even be made to be your pet; they can be ridden around the environments. Use the new map feature to show where you and each of your friends are located in the environment. In survival mode and creative mode, you can play online or local with friends up to four players. Chat and communicate with other players using the new messaging feature and fun, new emoji animations.
■ Survival mode - Collect, build, craft, combat, and explore with friends in the name of survival. This mode features new weather cycles appearing throughout the environments.
■ Creative mode - Use cubes to build your own original world alongside your friends with unlimited cube resources. Movement is also unrestricted so you can fly around the environment with ease. Save these creations too!
■ Stage Builder mode
New, special cubes which allow players to design challenging and entertaining levels: moving cubes, pushable cubes, breakable floor cubes, thorny (spiked) cubes, trampoline cubes, along with cubes that vanish, treasure chests, and warp portals
Set goals for the group of players with time limits, as well as set the daylight cycle
Save each stage and share with friends or with other DX players in the Swapatorium
Read more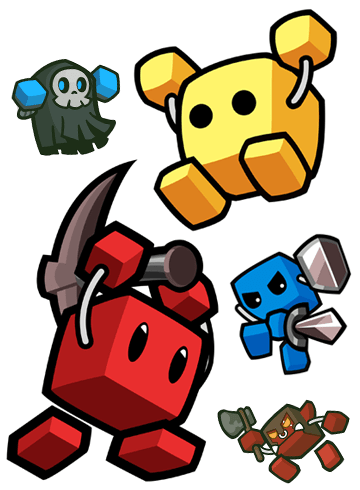 Release date:

November 08, 2018

Genre:

Adventure, Action, Multiplayer, Other

Publisher:

Big John Games

Developer:

Big John Games
*To enjoy the 3D effect of Nintendo 3DS software, you must experience it from the system itself. All screenshots and videos on this website have been captured in 2D mode.
Use Parental Controls to restrict 3D mode for children 6 and under.
*If eligible for a Just for You offer, the final price reflects the combined Sale and Just for You offers. The Just for You offer is discounted from the sale price.
© Big John Games 2018