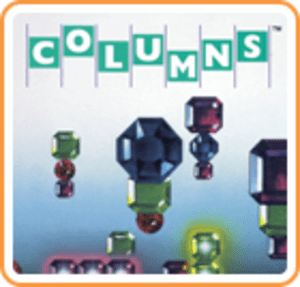 Challenge your mind and reflexes. Forget the passage of time.
Drift back in time to ancient Phoenicia and challenge yourself with Columns, an addictive game played by Middle Eastern Merchants centuries ago. In this mesmerizing pastime, tinker with your riches to align glittering jewels across, down, or diagonally.
As you line up colors, the gems vanish and more sparklers drop from above. The challenge increases as jewels fall more rapidly. You must quickly align them before the columns reach the top. For additional challenge, try to eliminate the flashing jewel before your time runs out in Flash Columns or take on a friend in local multiplayer!
With three degrees of difficulty and ten different levels, Columns will challenge a novice to an expert.
This game is only playable in 2D.
This classic game is part of the Virtual Console service, which brings you great games created for consoles such as NES™, Super NES™ and Game Boy™ Advance. See more Virtual Console games for Nintendo 3DS.
Read more
Release date:

June 13, 2013
*To enjoy the 3D effect of Nintendo 3DS software, you must experience it from the system itself. All screenshots and videos on this website have been captured in 2D mode.
Use Parental Controls to restrict 3D mode for children 6 and under.
*If eligible for a Just for You offer, the final price reflects the combined Sale and Just for You offers. The Just for You offer is discounted from the sale price.