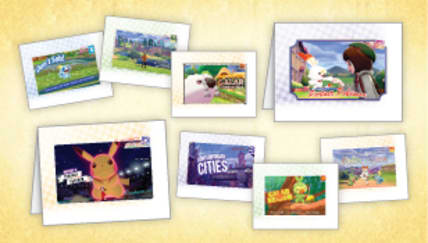 05/05/2020
Nintendo Switch
Send a Galar-themed greeting with printable Pokémon cards!
Share the sights of the latest Pokémon region with the help of  these cards!
You'll find beautiful natural scenery, big adventure, and tons of fun Pokémon friends on your journey across the Galar region in the Pokémon™ Sword and Pokémon™ Shield games for the Nintendo Switch™ family of systems.
These cards are great for sending a fun message to your friends and family—use them to share anything from memories of your adventure, an invitation to play, or just a simple "hello!"
Instructions
1.       Click to open the PDF Link.
2.       Open the file on your computer, then print.
3.       Fold the paper in half widthwise, then fold it lengthwise. The main design should appear on the front of the card.
About the Pokémon Sword and Pokémon Shield games
Catch, battle, and trade Pokémon on a new adventure in the Galar region! Begin your adventure as a Pokémon Trainer by choosing one of three new partner Pokémon: Grookey, Scorbunny, or Sobble. Then embark on a journey in the Galar region, where you'll challenge the troublemakers of Team Yell, while unraveling the mystery behind the Legendary Pokémon Zacian and Zamazenta.
For more information about Pokémon Sword and Pokémon Shield, please visit Pokemon.com/SwordShield.