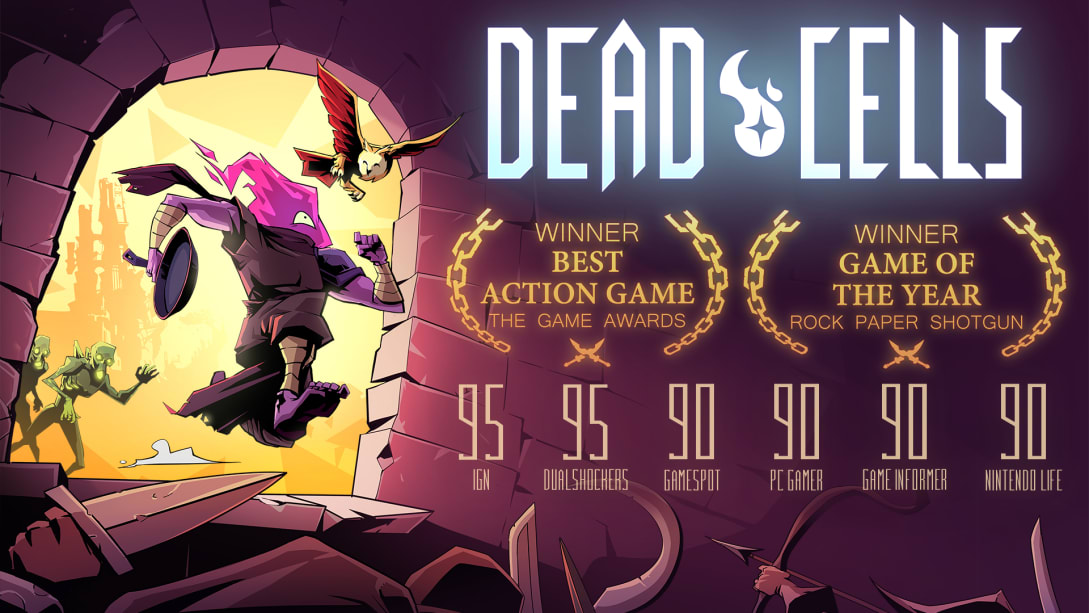 Discover 2018's Action Game of the Year and use your wits, weapons & spells to escape an ever-changing island in this colorful, exploration filled, action-packed adventure.
Explore a vast, ever-changing island filled with secrets, branching paths and challenging foes. Silky smooth controls, fast paced combat and undeniably enjoyable game-feel make each run more addictive than the next as you progressively unlock permanent upgrades. Multiple difficulty modifiers will help you find the challenge that's right for you as you discover the characters and lore of the island.


RogueVania - just one more run!

Dead Cells is an action adventure game where you explore an island and finish the game in one run without dying! Each run is different as the island changes each time you die.

But don't worry, every time you die you'll gain resources that unlock permanent upgrades, making you stronger, giving you access to more weapons or items and even revealing new levels and paths to explore!

On top of that, the more you explore the more you'll learn about the lore and story of the island and how it came to be contaminated by the plague that curses it.


Silky smooth controls and amazing combat…

Dead Cells has become the gold standard for game-feel in 2D action platformers. As soon as you pick up the controller the game feels satisfying to play.

This, combined with gameplay changing weapons and a plethora of enemies to learn, means that you'll always have fun as you move around, fighting and exploring as you discover the island.

With over 130 different combinations, from the deadly (swords, axes, spears and bows) to the ridiculous (shovels, tentacles, frying pans and inflatable doors), everyone will find a build that works for them.


Customizable Difficulty Settings:

We've also heard that many people don't have the time to spend hundreds of hours mastering a single game, so we've created multiple ways to play and enjoy the challenge that is right for you.

From the Custom Mode that allows you to pick and choose your weapons, enemies and more. To the new Aspects that give you interesting boosts that synergize with your favorite playstyle to allow you to finish the game.

Of course, there's still ample challenge for anyone who wants to take the gloves off and go down swinging.


A Rich World to Explore:

Whether it's the grimy corridors of a medieval prison, the breathtaking sunset from the ramparts or the creepy confines of an ancient graveyard, each path you take will lead you through a succession of unique levels, each one with their own enemies, level design and secrets to unlock.

When you first start exploring, just making it out of the first level might seem daunting, but you'll soon get the hang of it and you'll unlock something new to help you with your quest on almost every playthrough.

With so much to discover you'll find it hard to stop yourself from saying the sacred phrase... just one more run!
Read more
Explore this game's official site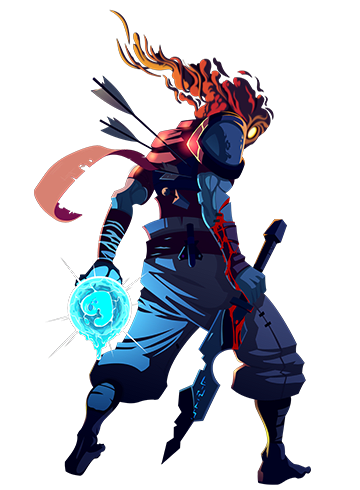 Release date:

August 07, 2018

Genre:

Action, Platformer

Supported Languages:

Japanese, English, French, German, Italian, Spanish, Korean, Portuguese, Russian, Chinese
Supported Play Modes:

TV mode

Tabletop mode

Handheld mode

Software compatibility and play experience may differ on Nintendo Switch Lite. Additional accessories may be required (sold separately). See support for details.
Play online, access classic Super NES™ games, and more with a Nintendo Switch Online membership.
Game and DLC bundle
Dead Cells: The Fatal Seed Bundle
Loading
This bundle contains all of our three DLCs released yet:
- Rise of the Giant
- The Bad Seed
- Fatal Falls

Herein you will find the base game plus 6 new levels and 2 new bosses with their associated enemies and weapons.

Check out the individual store pages for each DLC if you want to know exactly what's in each of them.

If you've got any questions don't hesitate to hit us up.

Have fun!
Individual DLC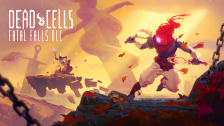 Dead Cells: Fatal Falls
Loading
Try not to fall as you wind your way along the sheer cliffs of the island's coast. Explore floating shrines, infiltrate the lair of an outlawed secret society and learn the tells of a new boss. This is new mid game content for people looking for alternatives to the Stilt Village, Clock Tower and Time Keeper areas and their parallels.

The Fractured Shrines: Breathtaking views, kamikaze crows, spear-wielding snakes, sadistic new traps and an endless fall if you slip. What more could you ask for?

The Undying Shores: Not the beach you had in mind for your time off… Creepy lantern wielding wizards and their shovel brandishing minions. Not at all the holiday you planned...

The Mausoleum: A new humanoid boss with his own story to tell, tough pattern based combat and a magnificent setting for a showdown.

On top of the new areas, enemies and pet sword, you'll of course need new tools for killing and what we've provided here should be particularly effective.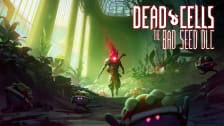 Dead Cells: The Bad Seed
Loading
Explore a relaxing Arboretum, wade through a noxious Swamp and take on a new boss in this new early game content designed to expand the Dead Cells universe and add variety to runs for people who want to support the development of the game.

So you'll be able to play through:
- The Dilapidated Arboretum: A relaxing and peaceful greenhouse inhabited by a peaceful clan of mushrooms, with an understandable desire to murder the Beheaded.
- The Morass of the Banished: A noxious environment ruled by a band of tree dwelling mutants with pointy sticks, sneaky dart shooting frogmen and a bunch of deadly bloodsuckers.
- The Nest: Domain of Mama Tick.

The two new levels and their monsters are alternatives to Promenade of the Condemned/Toxic Sewers and Ramparts/Ossuary/Ancient Sewers, with the boss designed to be on par with The Concierge, so hopefully it'll spice up your early game runs once you've played through the core game.

Why Paid DLC?

We've been releasing free updates for Dead Cells for over a year now, this paid DLC is designed to support that effort, allow us to expand the game even more and ensure that Motion Twin have the time they need to make their next game one they'll be proud of and you'll be stoked to play.

As usual we're going to do this right, so if you're not happy with the cost of the DLC, the quality of the update or have suggestions, ideas for other ways of continuing to pay for the team or anything at all, leave us a review.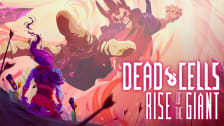 Dead Cells: Rise of the Giant
Loading
Since we began development on Dead Cells, many years ago now, we've been completely blown away by the amazing reaction of the community. Without your support and feedback we wouldn't be where we are today. Rise of the Giant is our way of saying thank you. Here's a free DLC with a bunch of new content, mostly aimed at the people who have been hanging around since day 1, it's high level and should offer more challenge than most sane people would think reasonable.

Features:
New levels: You've got a new level that's connected to the main level structure and immediately available to anyone who's finished the game at least once. You've got another (poorly) hidden level, for the masochists who know that there is a Boss Cell 5
New Bosses: Mirroring the above, you've got a new completely different type of boss available in the main level structure, with another INSANELY difficult boss hidden behind even more ridiculously difficult content.
New content: There are 10 new enemies, 13 new weapons/skills and a bunch of other upgrades to core game systems. There are additions to the story/lore of the game, new secrets, new blueprints and…
Skins: People have been requesting this for ages and we've finally found the time to make the necessary changes to accommodate the request. You've now got access to female skins, fluo skins and a Christmas tree skin, cos why the hell not.

On top of these major changes we're continuously trying to update the game in ways that make it more challenging and more just, all the while remaining open to new players. As such you will notice that the difficulty has been rebalanced so that the entry level of the game, while extremely challenging is now in line with the 5 extra difficulty levels available to those who like to suffer.

We hope that you like Rise of the Giant and would like to remind you that we're not done, we'll be continuing to make content for the game for as long as you keep demanding it, so feel free to let us know what you'd like to see and if we can make any changes that would make you happy.
*MSRP: Manufacturer's Suggested Retail Price. Actual price may vary. See retailer for details.
A Nintendo Switch Online membership (sold separately) is required for Save Data Cloud backup.
© 2018 Motion Twin. All rights reserved.