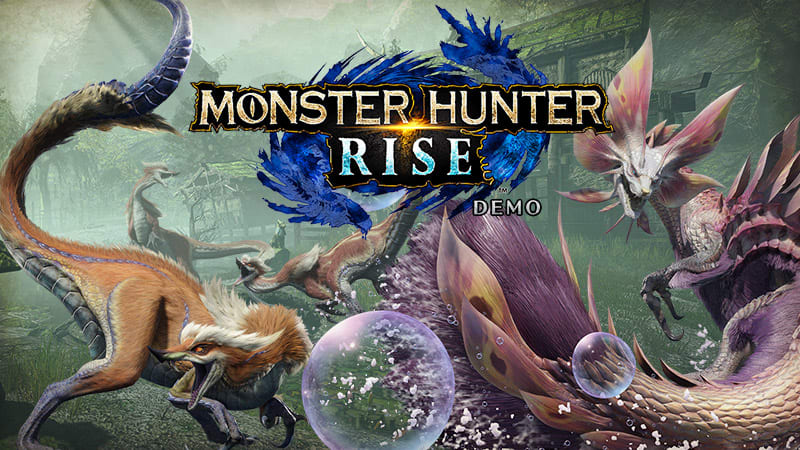 Try out MONSTER HUNTER RISE with a free, limited-time demo!
It's time to join the hunt. The latest game in the critically-acclaimed MONSTER HUNTER series is coming to the Nintendo Switch™ system…and you can try it out today!
Get a taste of questing, slaying, and riding by downloading the free limited-time demo. As a bonus, this demo can be played with local* or online** multiplayer, and the demo save data will unlock an item booster pack in the full game. The pack includes Mega Potion x20, Pitfall Trap x5, Energy Drink x10, Mega Demondrug x5, and Mega Armorskin x5. Please note that this demo will only be available until January 31st, 2020 so please check it out soon if you're interested!
MONSTER HUNTER RISE comes out on March 26, 2021.
Note: Online multiplayer requires a Nintendo Switch Online membership. If you're not a member, you can learn more by visiting the Nintendo Switch Online site.
Pre-order Bonus
If you liked what you played, pre-ordering the digital or physical versions will also grant you a few bonuses***:
Palamute Retriever Costume layered armor
Palico Forest Cat Costume layered armor
Novice Talisman for some extra assistance in the early stages
Pre-order information can be found at the same link below.
About MONSTER HUNTER RISE
Set in the ninja-inspired land of Kamura Village, explore lush ecosystems and battle fearsome monsters to become the ultimate hunter. It's been half a century since the last calamity struck, but a terrifying new monster has reared its head and threatens to plunge the land into chaos once again.
Hunt solo or in a party with friends to earn rewards that you can use to craft a huge variety of weapons and armor. Brand new gameplay systems such as the high-flying 'Wire Action' and your canine companion 'Palamute' will add exciting new layers to the already robust combat that MONSTER HUNTER is known for.
For more details on the game, visit https://www.nintendo.com/en_CA/games/detail/monster-hunter-rise-switch/.