Touhou Project Arrangements Pack 6
A DLC pack for GROOVE COASTER WAI WAI PARTY!!!! that includes 10 arranged songs, navigators, and avatars! Also includes songs from the popular games "Touhou Danmaku Kagra", "Touhou Lost Wrod", and "Touhou Spell Bubble" and vocal songs by Marine Houshou!

This pack includes the following content.
■Songs Pack (10 songs)
・Sensyaku Zeshou No Fantasia / Hakurei Jinja Reitaisai Collabo Unit
・IMAGINA / Akatsuki Records (From「Touhou Spell Bubble」)
・kimiiro Petal / A-One feat. 3L (From「Touhou Spell Bubble」)
・Pure Furies-YS MIX- / Yu Shimoda (ZUNTATA) (From「Touhou Spell Bubble」)
・Lost Word Chronicle / Touhou LostWord feat. Kanako Ito (From「Touhou Lost Word」)
・Hoi Hoi ☆ Genso Holoism / Houshou Marine with Holoizmfantasy
・Shiawase Usagi, PekoMikoMarine / Usada Pekora, Sakura Miko, Houshou Marine
・A flower blooming on phantasm / Kisida Kyodan & The Akebosi Rockets × Kayoko Kusano (From「TOUHOU DANMAKU KAGURA」)
・MATSUYOI Nightbug / COOL&CREATE feat. beatMARIO and MARON (From「TOUHOU DANMAKU KAGURA」)
・???(Secret)

■Navigators
・Reimu(Touhou LostWord)
・Marisa(Touhou LostWord)
・Reimu(Touhou Danmaku Kagura)
・Marisa(Touhou Danmaku Kagura)

■Avatars
・REIMU(Headphone, 2D)
・SANAE(3D)
・MEILING(2D)
・PATCHOULI(2D)
・REMILIA(2D)

*Some content will be unlocked via missions after downloading.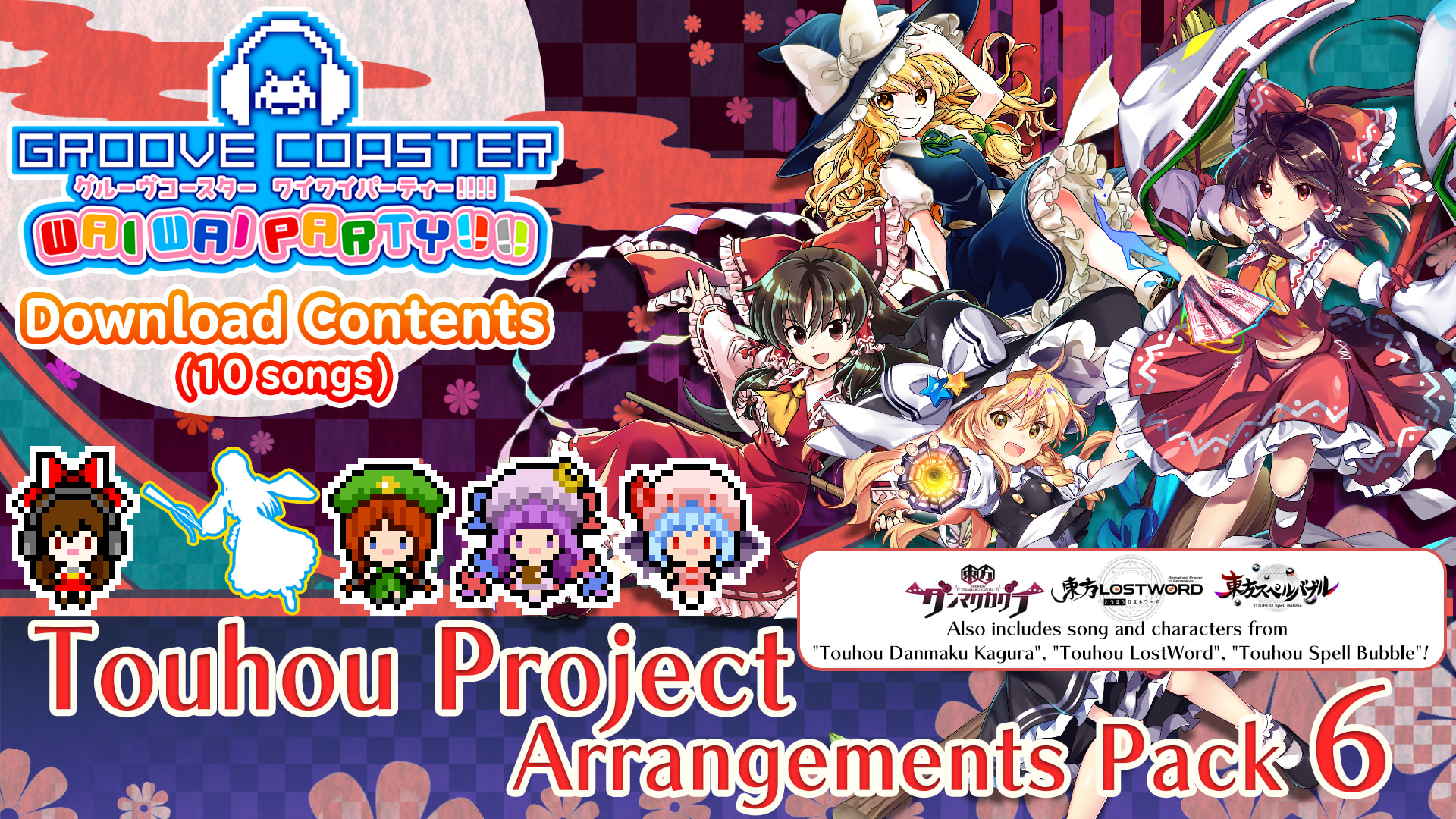 Supported play modes
TV mode, Tabletop mode, Handheld mode
In order to install the downloaded content, a larger volume of free space may be needed than what is written. In the case that there is not enough space on your system, please organize your unneeded software or use a microSD card with enough free space on it.
© TAITO CORPORATION 1978,2020 ALL RIGHTS RESERVED.
© Team Shanghai Alice
© GSC/NN
©アンノウンX/AQUASTYLE・DeNA・xeen inspired by 東方Project