SnowRunner - Season 3: Locate & Deliver
Expand your SnowRunner experience with Season 3: Locate & Deliver. Haul giant logs and bring old railways to life in the remote wilderness of Wisconsin, USA. Enjoy two huge maps in Wisconsin, three new vehicles, exclusive skins, unique missions, specialized logging addons, and more!

The Season 3: Locate & Deliver DLC is available as part of the Year 1 Pass and Premium Edition, or as a standalone purchase.

Season 3: Locate & Deliver includes:
• Two new summer maps in Wisconsin, USA, with the much-anticipated arrival of logging! Use the new grapples to load logs, rebuild train tracks, and power abandoned facilities in the deep wilds.
• Three new vehicles including the International PayStar Twin Steer, the Pacific P512 PF, and the BOAR 45318.
• New cosmetics, including three vehicle skins, and new stickers.
• New addons to load and carry logs, and a generator trailer to power facilities.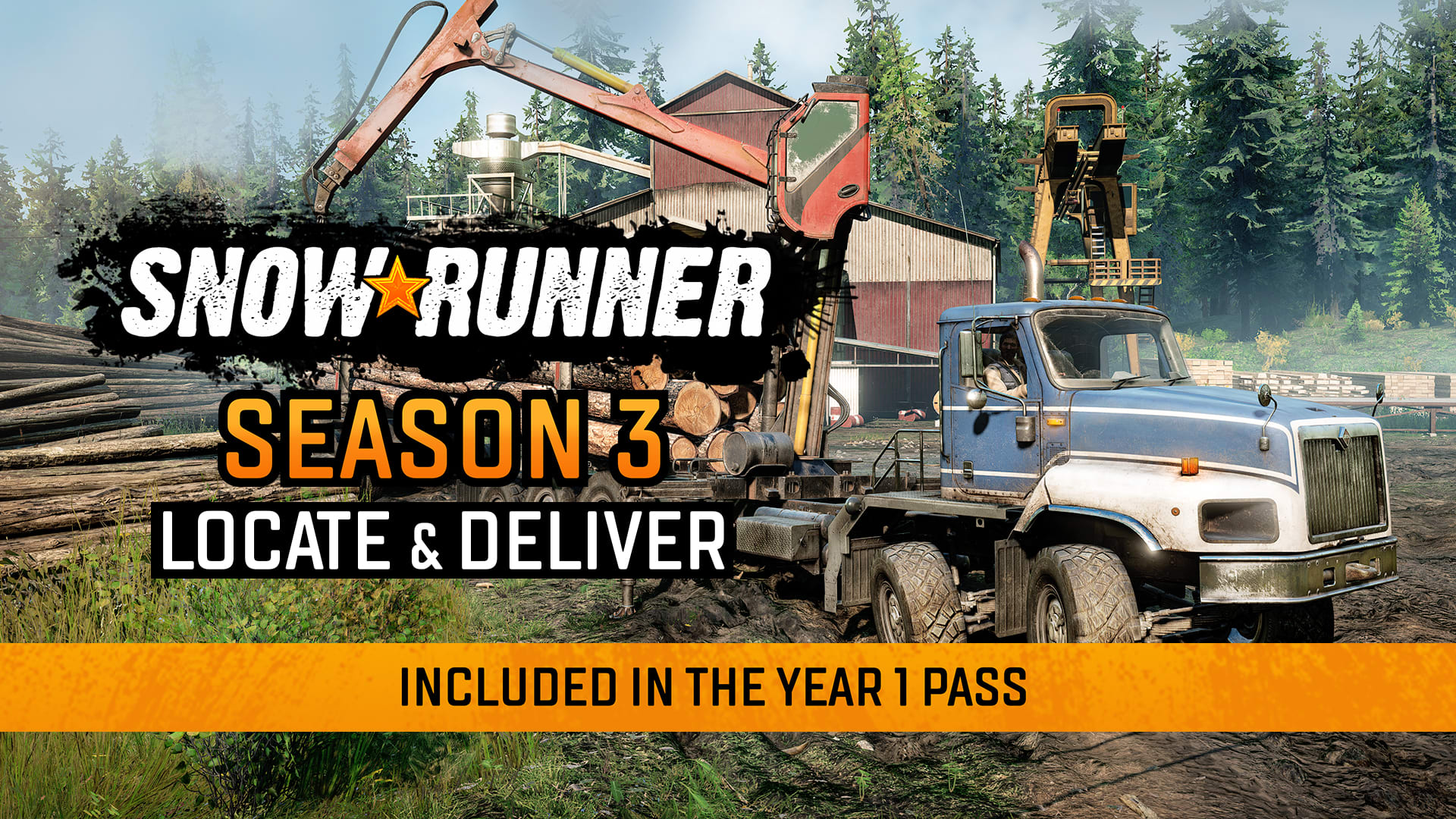 Supported play modes
TV mode, Tabletop mode, Handheld mode
© 2021 SnowRunner. Developed by Saber Interactive and published by Focus Home Interactive. SnowRunner is a trademark of Saber Interactive Inc. Havok software is © 2021 Microsoft. Hummer H2, Chevrolet, GMC are trademarks of General Motors LLC. Freightliner 114SD, Freightliner M916A1, White-Western Sat 4964 and Western Star 6900 TwinSteer are trademarks of Daimler Trucks North America LLC. Ford CLT-9000 is a registered trademark of Ford. International® Loadstar 1700 Crew Cab, International Harvester Scout 800, International® Transtar 4070, International® Paystar 5070, International® FleetStar F-2070A and Navistar 5000-MV are trademarks of International Truck Intellectual Property Company, LLC. Pacific P16, Pacific P12, Pacific P12/Roughneck and Pacific P512PF are trademarks of Pacific Truck Mfg Inc. ©2021 Caterpillar. CAT, CATERPILLAR, their respective logos, "Caterpillar Yellow," the "Power Edge" trade dress as well as corporate and product identity used herein, are trademarks of Caterpillar and may not be used without permission. www.cat.com / www.caterpillar.com. Focus Home Interactive is a licensee of Caterpillar Inc. All trademarks belong to their respective owners and are used by Focus Home Interactive under license. All rights reserved.