Nintendo Switch Summer Experience
This summer, you could see the Nintendo Switch™ Summer Experience tour stopping in your area! Bring the family together to create fun memories with Nintendo Switch and visit one of our tour stops in your neigbourhood.
You will get the chance to play the newest games on the system: Mario Strikers™: Battle League, Nintendo Switch™ Sports, Kirby™ and the Forgotten Land, and the Mario Kart™ 8 Deluxe- Booster Course Pass DLC* for the Mario Kart™ 8 Deluxe game!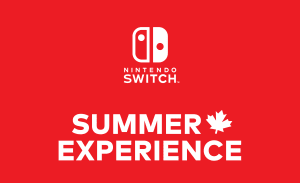 Pre-Register Now!
Space may be limited at these events, so be sure to pre-register for a Warp Pipe Pass to secure a spot for you and your family. For more info, check out the registration website.
Pre-register
Summer Experience stops
*Venue requires paid admission
---
Playable games
Learn more about the games you and your family can try out at the Nintendo Switch Summer Experience this year.
Be sure to check out the My Nintendo Store website for more details about all the games featured at the Nintendo Switch Summer Experience. Shop Nintendo Switch systems, games, exclusive merchandise, and more!
Start shopping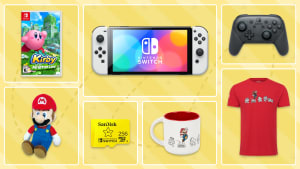 Frequently asked questions
What is the Nintendo Switch Summer Experience?
Nintendo is hitting the road this summer with the Nintendo Switch Summer Experience to bring families a fun-filled interactive experience with demos of the latest games.
---
Is this event free to attend?
Yes! The event is free but location might require entrance fee please check the event website for details.
---
Is pre-registration required?
Though not required, it is recommended to secure your spot by reserving a Warp Pipe Pass: https://experience.nintendo.com/#/ some events might have registration.
---
Are all available stops currently available for Warp Pipe Pass reservation?
Registration for each event day will start at 9:00 AM on the Monday of the event week. Registrations will close at 11:59 PM the night before each event day. Some identified events may not require Warp Pipe Pass registrations.
---
Can I still attend if I don't have a Warp Pipe Pass reservation?
Limited standby spots will be available on the day of the event. Standby guests will be admitted on a first-come, first-served basis (subject to availability).
---
Do I need to arrive at the exact time of my Warp Pipe Pass reservation?
For the best experience, be sure to arrive during designated Warp Pipe Pass reservation time window to minimize wait time. If you arrive more than 5 minutes after your designated time, you will only be allowed entry if space allows.
---
Is attending with a group recommended?
Attendees will rotate through each demo station with their group of 3–4 people. If you plan on attending with a smaller group or on your own, you will likely be paired up with another group to experience the fun of playing together.
---
How long will it take me to complete the event?
The experience is roughly 30 – 40 minutes in length, not including any wait time.
---
Are there any attire guidelines for event attendees?
Secure footwear is required to play Nintendo Switch Sports (e.g. sneakers, loafers, closed heel flat sandals). Footwear such as, but not limited to, flip flops or heels / wedges will not be permitted.
---
Why are there footwear requirements in order to play Nintendo Switch Sports?
Nintendo Switch Sports requires active play so players will need to wear appropriate footwear. Secure footwear reduces the risk of tripping, falling, or footwear dislodging when playing.
---
Will I be able to purchase Nintendo products at the event?
We are not directly selling any Nintendo products at the event. Instead, we encourage you to shop for Nintendo merchandise and online exclusives at the My Nintendo Store https://www.nintendo.com/en-ca/store/merchandise/shop-summer-tour/.
---
Have additional questions? Feel free to reach out Nintendo Consumer Support!

*Full version of game required to use DLC. Sold separately. Content will release in 6 waves of 8 courses until the end of 2023.